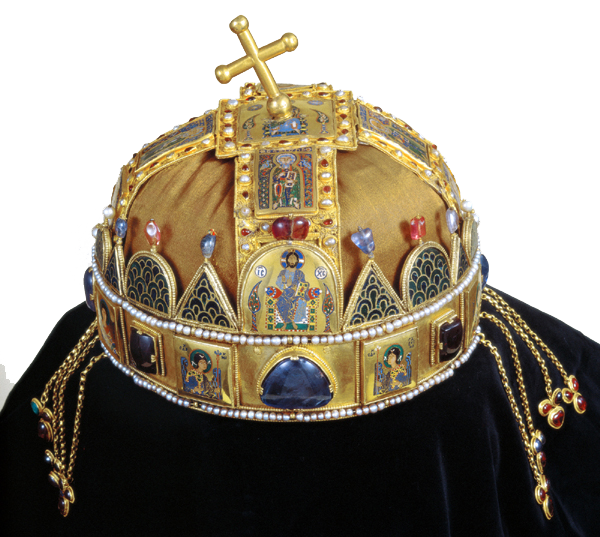 A Byzantine Diadem
---
The "Corona Graeca" was a diplomatic gift of the court of Constantinople to Géza I, probably sent to Hungary with his Byzantine artistocrat fiancée. Most of the massive gems are original and would have been set in the diadem when it was made in Constantinople. This diadem closely resembles the great crown of Byzantium. That crown can be seen in the mosaic of John II Comnenus in the South Gallery of Hagia Sophia. John's wife, Eirene, was an Hungarian Princess.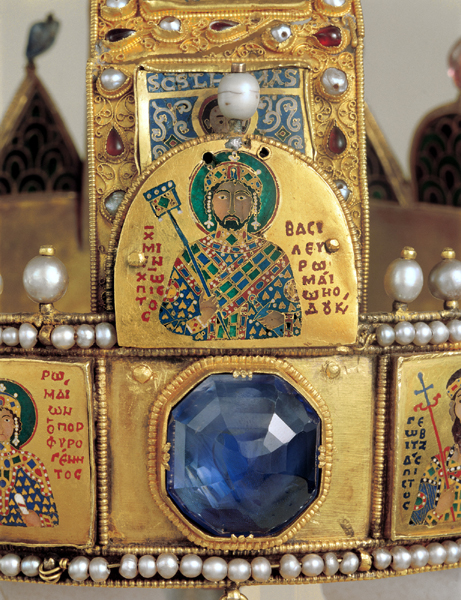 An Enamel Portrait of the Byzantine Emperor Michael VII Ducas
---
The gem under Michael is a huge watery aquamarine, which is a form of beryl. When crown was dispatched from Constantinople every detail had been carefully worked out. The Byzantine court sent out crowns frequently to foreign courts it favored or wanted to patronize. All of the foreign royalty received a Byzantine court title with it. The value of the gemstones, the pearls and the gold was carefully calculated. Certain stones were selected for their perceived spiritual or metaphysical value.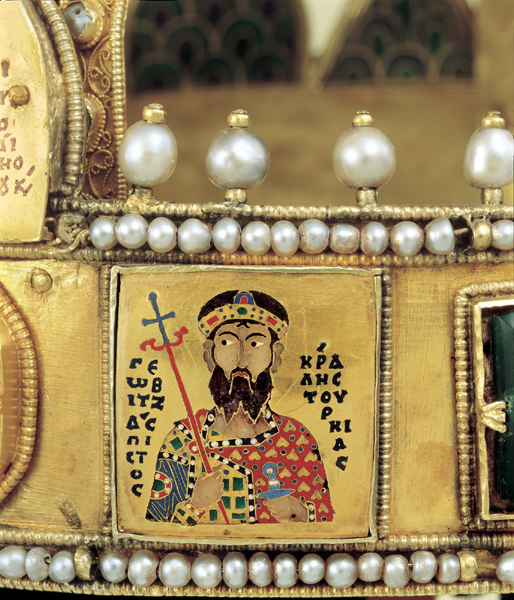 The Hungarian King Geza I
---
Geza I, King of Hungary. His portrait is placed on the crown in strict Byzantine hierarchy, Christ is above all and the Byzantine Emperor it below Him, higher than Geza. Geza's eyes turn to look at Michael in deference to his position. All male members of the Byzantine Imperial family wore portraits of the ruling Emperor on their own diadems or hats.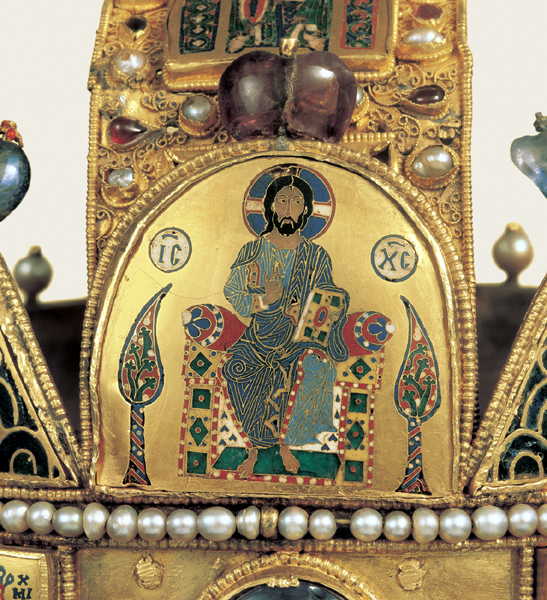 Enamel of Christ Enthroned
---
A superb enamel of Christ on His Heavenly Throne - one either side are two trees in the Garden of Paradise. The gem under Christ is huge sapphire.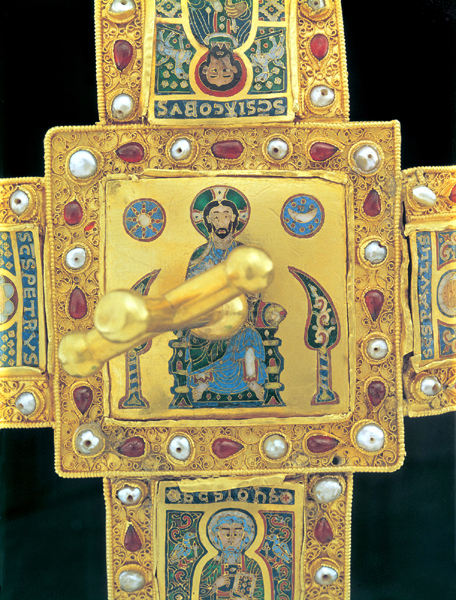 Enamel of Christ Enthroned
---
Another matching Byzantine enamel on the top of the crown. The crossed-top arm is not the Byzantine form. The top of a Byzantine diadem is open. The crossing was added after the diadem arrived in Hungary. This enamel came from something else that came with the diadem.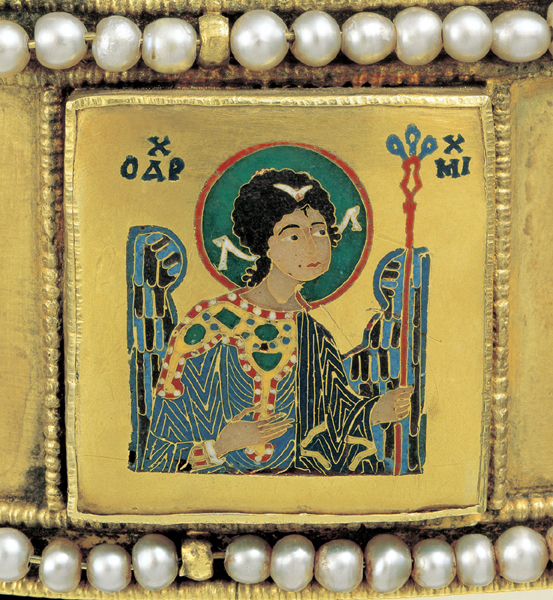 Enamel of the Archangel Michael
---
There are two matching Archangels on the crown, facing Michael is Gabriel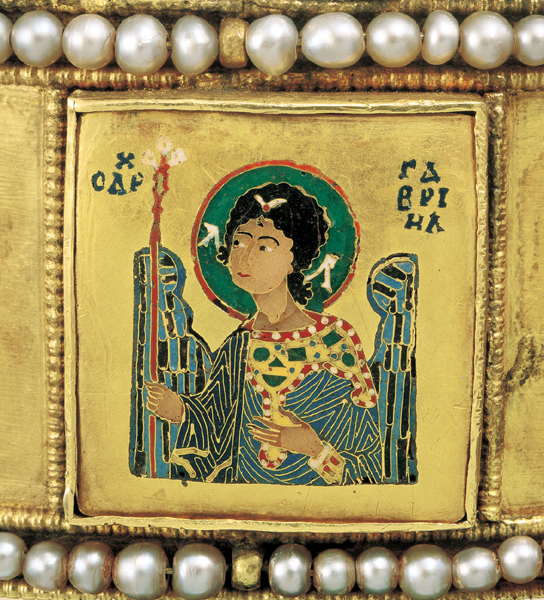 Enamel of the Archangel Gabriel
---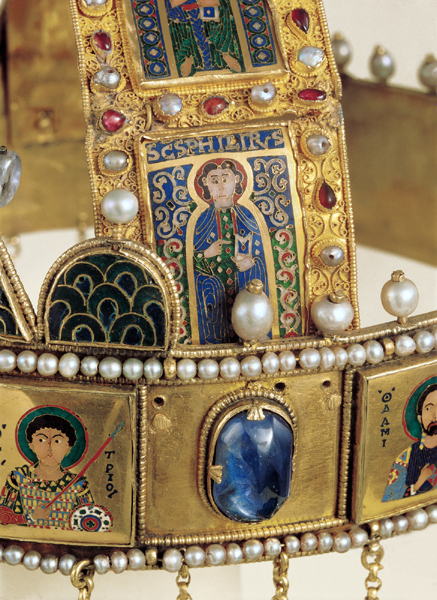 Huge Sapphire Between Saint Demetrios and Saint Damianos
---
Most of the big stones of the diadem are semi-faceted. The hanging cabochon drops are customary on Byzantine diadems. They add flash and color to a man's long hair as he moves.
.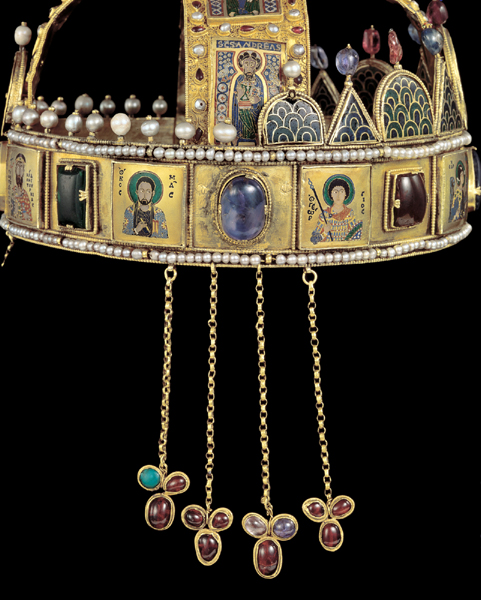 The Pendoulia on the Diadem
---
They are made of different stones, including Garnets. Originally all of these would have been matching garnets - when some became detached and lost they were replaced with other stones.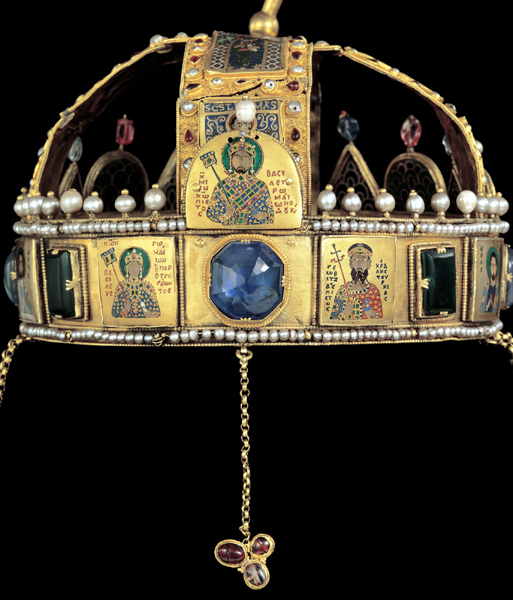 The Back of the Diadem
---

The Inside of the Diadem
---

Norman-Byzantine Coronation Glove
---
The Norman Kings of Sicily patterned their coronation ceremony on that practiced in Constantinople by the Byzantine Emperors. This silk-velvet coronation glove duplicates similar ones worn by them. It is encrusted with pearls, gemstones and gold Byzantine enamels.
---
Collections of Beautiful Icons
---