Red Porphyry Columns


---
These columns are from the north eastern exhedra of the nave of Hagia Sophia. There are six of them. They were quarried by slaves at Gebel Dokhan (the ancient Mons Porphyrites) in the Eastern Desert of Egypt. The quarries stopped production in the 5th century and these columns were reused or came from existing stock. They vary in size, which means the bases are of different heights. The stone is extremely hard and difficult to fashion into columns. It is also brittle, splits and flakes. You can see how bronze collars have been added to stop them from cracking under the immense weight they carry. These collars were added very early in the history of the church.
Verde Antique Columns


---
These columns are from the West Gallery of the church. Verde Antique columns come from quarries near Larissa, Thessaly, Greece. There are dozens of them throughout the church in all sizes including huge monoliths. They are imperfectly carved and polished because of their material make-up, which consists of both hard and soft elements. The marble is a Breccia with clasts mainly of serpentinite/ophicalcite, a few of marble; extensive scattered crystals of oxide minerals, in a serpentine and calcite matrix. Heavily fractured, it can have many fractures are filled with cross-fibres of chrysotile serpentine.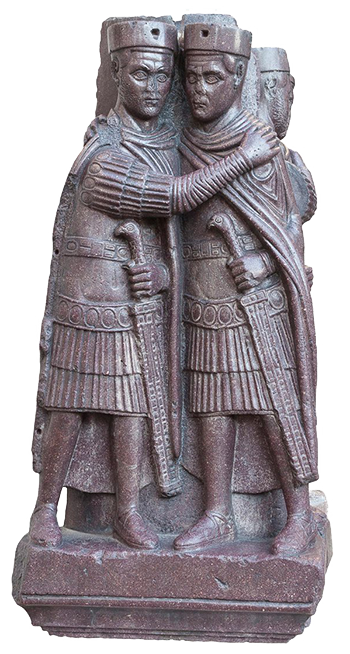 Porphyry Tetrarchs


---
This sculpture used to adorn a tall column in Philadelphion, a square in Constantinople. They were plundered in 1204 after the Fourth Crusade and brought to Venice where they were set on a corner of the church of St. Marks. The co-emperors are embracing in brotherly love, which gave its name to the square. There were four tetrarchs so there would have been two columns to carry them. The column might have been damaged in transit resulting in tetrarchs being cut off.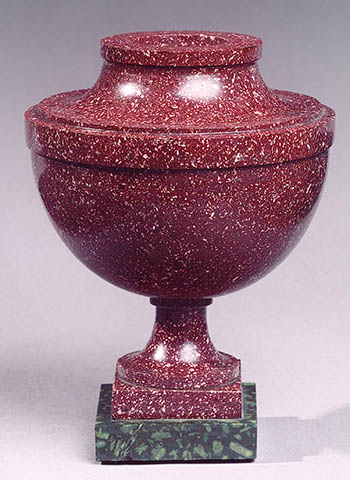 ---
Porphyry Vase
---
A Neoclassical vase turned in porphyry from an ancient block of stone found in an ancient marble-yard in Rome. It is mounted on a piece of green porphyry from Sparta in Greece. Both of these stones were used extensively in Hagia Sophia, especially in the apse.

Proconnesian Column


---
This column can be found in the upper galleries of Hagia Sophia. It is made of Proconnesian marble and has a very pretty ionic capital. All of the columns of the church are set in lead collars in their bases. The top collar is also lead.
---
Capitals from Thessaloniki & Constantinople
---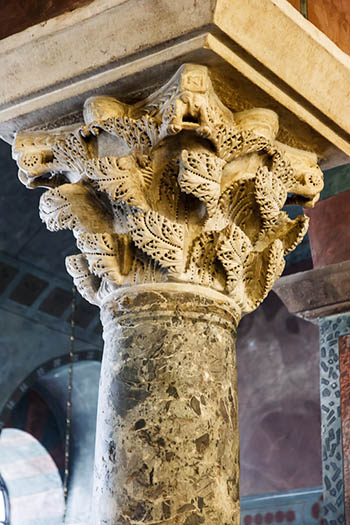 An example of a "wind-blown" acanthus capital on a column of verde antico.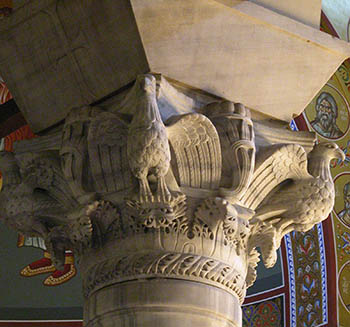 Here is capital carved in proconnessian white marble with eagles.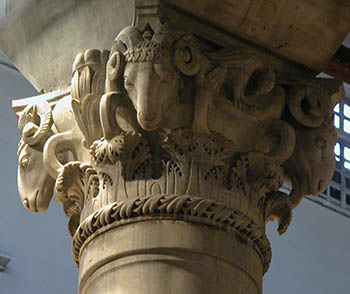 Here in place of eagles we see ram's heads.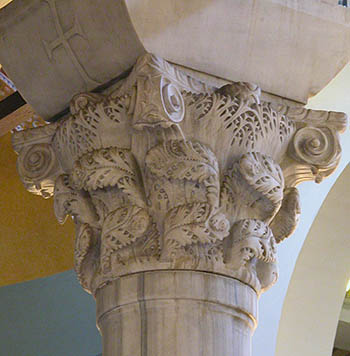 Another example of "wind-blown" acanthus on a column of white proconnessian marble.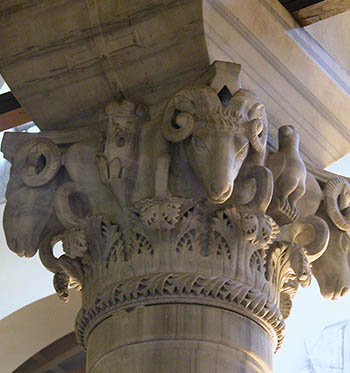 All of these capitals are carved in white proconnesian marble.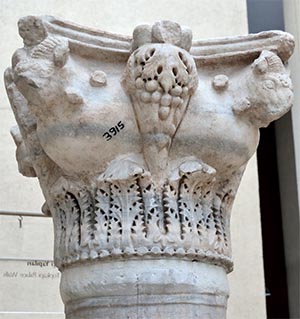 This battered capital was found on the grounds of the Mangana Palace and Church of Saint George of the Mangana. It's now in the Istanbul Museum.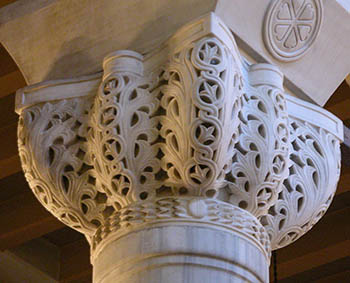 A basket capital.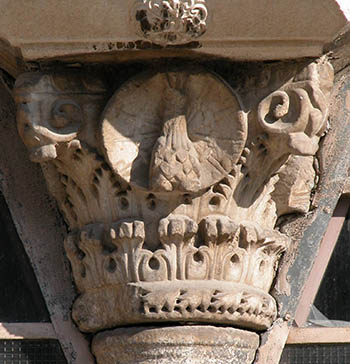 This capital originally had a peacock in the center which has broken off. It is on the exterior of a Byzantine building in Thessaloniki.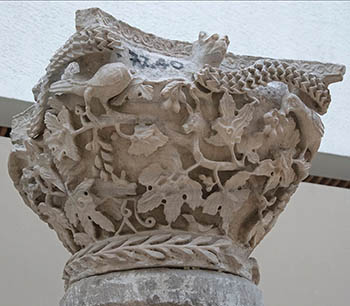 This is a beautiful lace capital with grape vines, grapes and birds eating them. The top of the capital is wrapped with the body of a snake. It is now in the Istanbul Museum. Perhaps this is the most beautiful capital that has survived from Constantinople.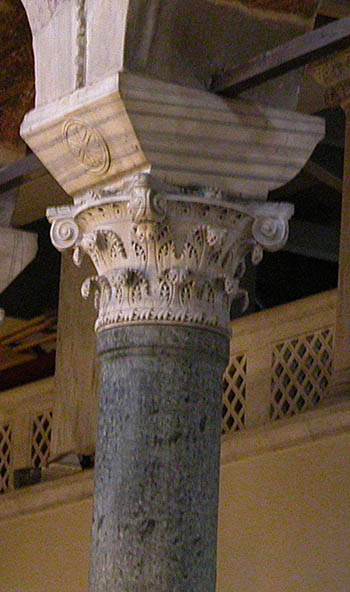 A beautiful Theodosian capital from Thessaloniki.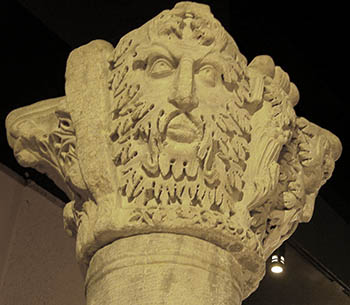 A wonderful "Green Man" capital in the Istanbul Museum. Green Men can be seen in the floor mosaics of the Great Palace.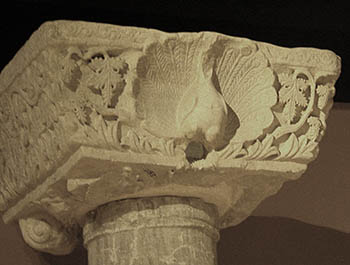 An ionic impost capital with a peacock.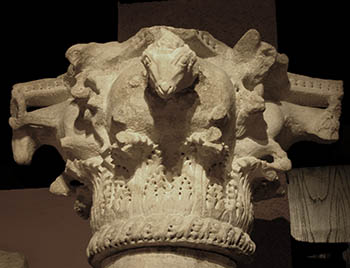 ---
Collections of Beautiful Icons
---