---
Porphyry Tetrarchs from the Philadelphion
now on the facade of Saint Mark's in Venice
---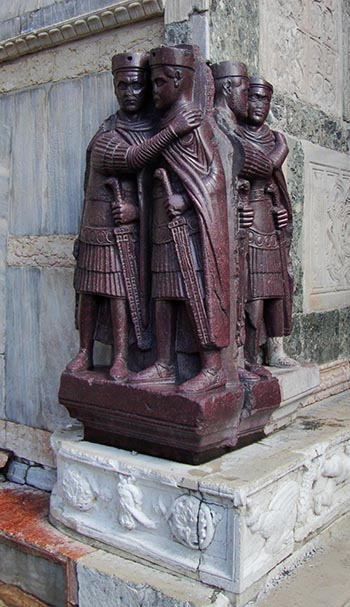 These figures were mounted on a tall column of Porphyry standing on a bracket. There were two columns. The other had another set of Tetrarchs, rulers of the Roman Empire. They were broken off of their column before being sent to Venice. The missing foot - seen in white - has been located in Istanbul recently.
---
Bust of Trajan on a Roman Porphyry Column
---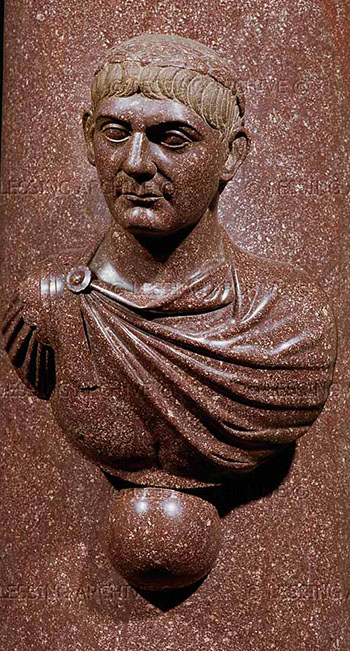 Above is another, earlier 2nd century Porphyry column with a mounted bust of Trajan. He is an emperor wearing a diadem, a jeweled circlet. It is one of a pair.
---
An Imperial Porphyry Tomb
---
Below is the Porphyry tomb of Constantine's daughter Constantina in Rome. It is decorated with cupids harvesting grapes like the fragment found in Istanbul that might have come from Constantine's tomb. It seems to have been a replica of it. This tomb was formerly in her mausoleum and is now in the Vatican Museums. It is the largest of the Imperial tombs in porphyry and dates from 354-360.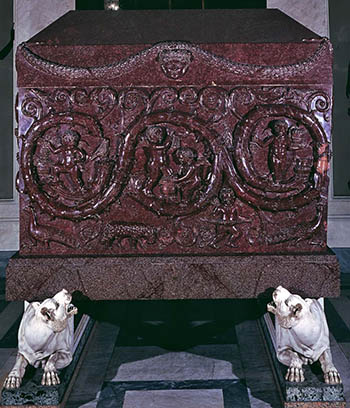 ---
4th Century Porphyry Altar now in Hagia Sophia
---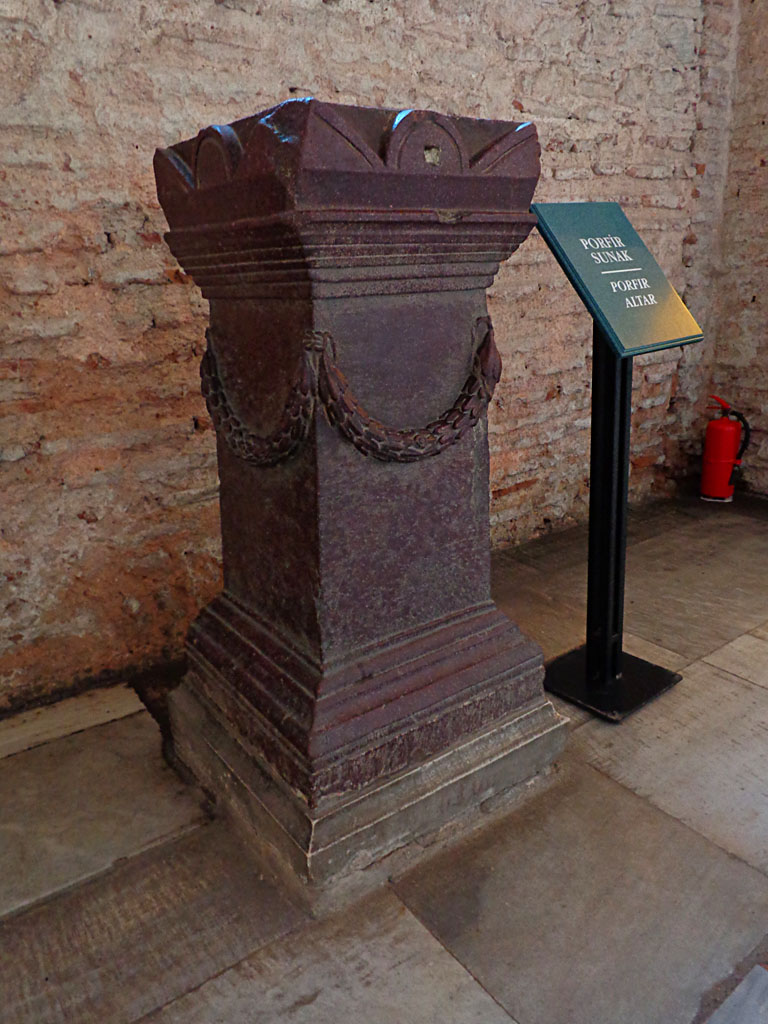 The altar has been on display in the church for several hundred years. No one knows it's history. If it is a pagan altar then it must date from around the time of Diocletian (244-311). History records that Diocletian ordered a huge number of statues and other architectural things in Red Porphyry, which the Romans called Roman or Egyptian marble. I don't know anything about this piece.
This stand could have been used for the burning of incense in a pagan rite. It could also have been the base for a statue, but it doesn't have an inscription, so that seems unlikely. Much later in time think it was probably used by the emperors in the Great Palace as a piece of furniture. It is in perfect condition so it was well taken care of wherever it was.
In Ottoman times things like this were taken to Topkapi and left in storage yards of old marble. Later they might be cut up and used in new building projects. Topkapi, being the domain of the Sultan, was a safer place for Byzantine antiquities than other places in the city, where anything that was dug up soon vanished. Agents of the Sultan watched for new marbles to pop-up. The Ottomans were less interested in red porphyry than the Byzantines. Purple was not an Imperial color for them.
---
12th Century Royal Norman Porphyry Tomb from Sicily
---

The 12th century Norman Kings of Sicily wanted Porphyry tombs like the Byzantine Emperors. They were able to find them in Rome. This one was originally a water basin and was re-carved.
---
Porphyry Vase
---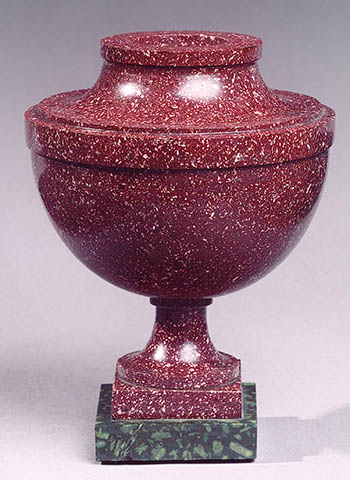 ---
A Neoclassical vase turned in porphyry from an ancient block of stone found in an ancient marble-yard in Rome. It is mounted on a piece of green porphyry from Sparta in Greece. Both of these stones were used extensively in Hagia Sophia, especially in the apse.
---
Three Roman Statues Carved in Porphyry
---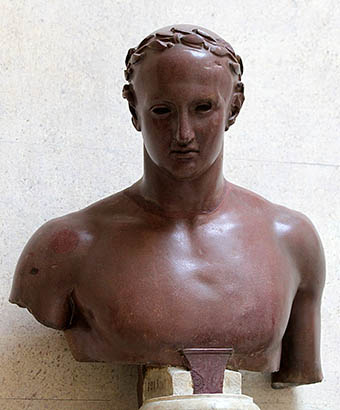 On this statue you can see how the surface has been polished by grinding, which softened the leaves of the laurel wreath on the head, which might have been gilded. The hollowing out of the eyes took a long time and these where filled in with white ivory and brown irises.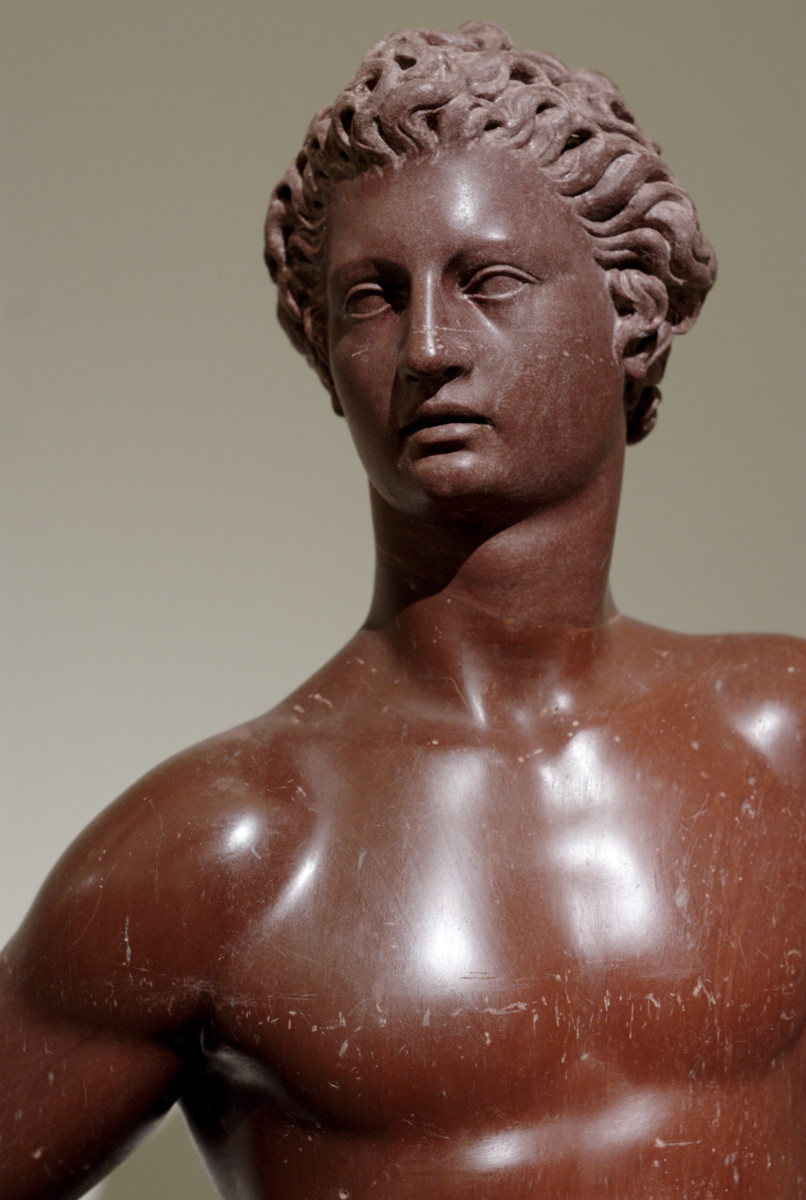 Here again you can see how the hair has been smoothed by grinding. The red color of the stone resembles sun-burnt flesh, like an athlete might have.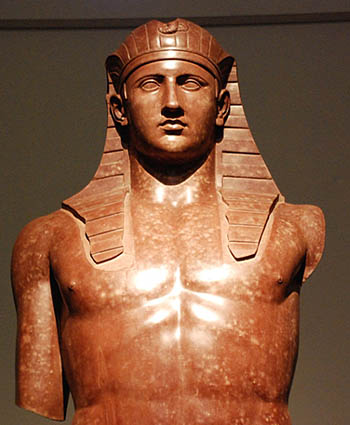 Antinous was a Bithynian Greek youth and a favorite of the Roman emperor Hadrian. He was deified after his death, having drowned himself in the Nile. Antinous was worshiped in the Roman Empire as a god. He has been sculpted here the Egyptian god, Osiris, in Red Porphyry. Hadrian had many statues of him erected in his villa at Tivoli.
---
Collections of Beautiful Icons
---