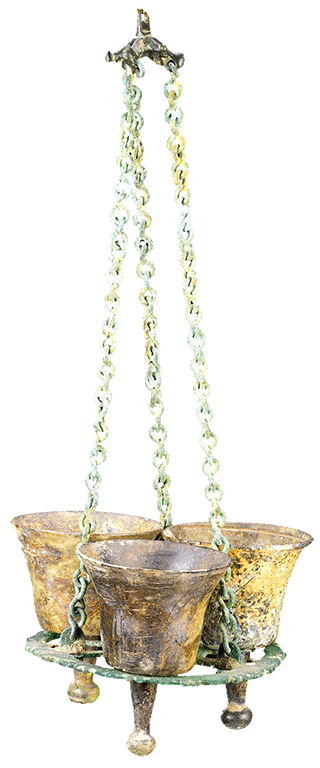 Polycandelon with Glass Lights


---
Here's an example of a three-light chandelier in bronze or brass. There were hundreds of much larger examples in Hagia Sophia, most of which were made of silver. A polycandelon with 12 glass lights would provide the the same light as a single 40 watt bulb.
Ivory of John the Baptist and Saints
---
10th century - Constantinople. On top are Phillip and Stephen, below are Andrew and Thomas. John the Baptist is show in the manner of Christ Pantocrator, blessing with his right hand. This ivory is considered one of the finest technically, finely carved with delicate piercing. It's delicate modelling and a general air of classicism places it in the 10th century.

Enamel and Sardonyx Chalice from Hagia Sophia
---
Possibly from Hagia Sophia and looted in 1204. It is now in the Treasury of Saint Mark's in Venice. The communion chalice is made of silver-gilt, gold cloisonne enamel, stones, pearls and glass. The cup is carved in the semi-precious stone sardonyx. It had been assumed that all of the cups used in these Byzantine chalices were from Roman or Hellenistic times and were reused. Now it is thought that some of them were carved during the Macedonian Dynasty which reigned from 867-1056 AD. The cup has been broken and is restored.

Gospels - Illumination of the Annunciation
---
This gospel dates from the 12th century and is notable for its large monumental illustrations. It is called the Trebizond Gospel because it in that city in the 14th century. The Archangel Gabriel is very well painted. The throne that Mary sits on and the marble flooring are very nice, too. One could assume that the high quality and sophistication of the miniatures indicates this Gospel belonged to a member of the Comnenian Dynasty - who reigned at this time. However, the 12th century experienced an economic renaissance that resulted in an expansion of consumer products, like inexpensive icons.

Gospel Illumination of the Baptism of Christ
---
Here is another illumination from the Trebizond Gospel in the Walters Art Museum in Baltimore, Maryland. The faces of the angels are finely painted. The pigments used in this manuscript are the finest that could be found at the time. Pigments in Byzantium were sold in shops, painters of icons and illuminators of manuscripts could find all of the things they needed for their artistic production in stores.
The Evangelist Mark

---
From an unrelated Gospel manuscript, also in the Walters Art Museum