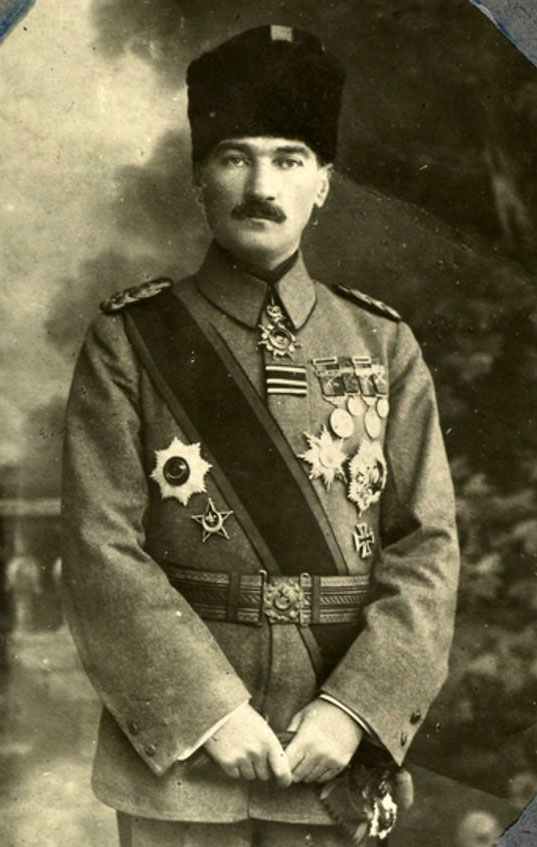 The images on the left were taken by White Russian refugees in Constantinople in 1920. I found them on Getty in an old photo album. The images are poor because they were scanned at a low resolution and had faded. I did auto-contrast in Photoshop on all of them and added 43% sharpening.
These are the only tourist snap-shots of Hagia Sophia in the 1920's that I have found. Some of them show Islamic services underway in the apse, which is very interesting. The image of the dome is important because it shows it after the restoration of 1900-11 was completed. At that time a large part of the dome was restored in paint.
The picture of Mustafa Kemal Atatürk above was in another Russian refugee album. It dates from around 1918. During WWI Turkey had allied with the Central Powers. Since the mid-1800's the Turkish Empire had a close relationship with the German Empire. Kaiser Wilhelm II visited Constantinople and many Turkish officers were trained in Germany. The Kaiser supported the building of railroads throughout the Turkish Sultanate and furthered German economic interests through investment and the promotion of Turkish industry. The Western Powers agreed to give Russia the straits and Constantinople at the successful conclusion of WWI. This did not happen because Russian withdrew from the war after the Revolution.
The White Russians also visited the Chora Church and photographed it. In addition they shot some pictures of street scenes and a couple of Orthodox clerics. They had a box camera on a tripod and a photographer with them. The photographer seems to be wearing a uniform. Perhaps he was Russian himself or French.