Constantinople was the most important source for bronze doors during the Middle Ages. Most of them were made for buildings in the city, while some were exported to Italy and Russia. Doors were shipped disassembled in parts by ship. You could order any decoration you wanted, including portraits of local saints or rulers. Even though we call them bronze most doors were made of brass - just like the doors of Hagia Sophia.
There were very special and costly doors made of solid silver plates that were inlaid with gold. The panels were laid over cedar or cypress wood.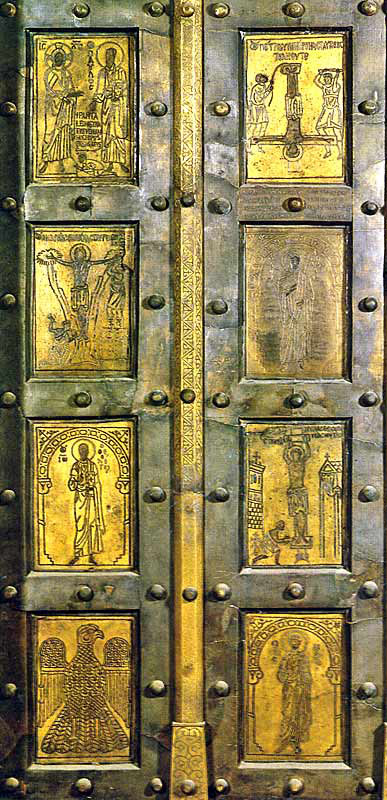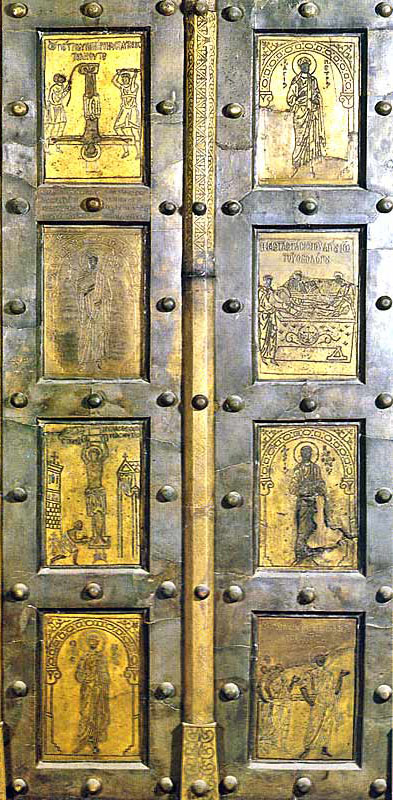 The two pictures of doors are from St. Paul's outside the Walls in Rome. It's actually a three panel wide door, which I cut in two part so you can see more detail. Doors were usually gilded and inlaid with either gold or silver. You can see the tracks for silver wire in the eagle panel below. Silver wire was pounded into the groves.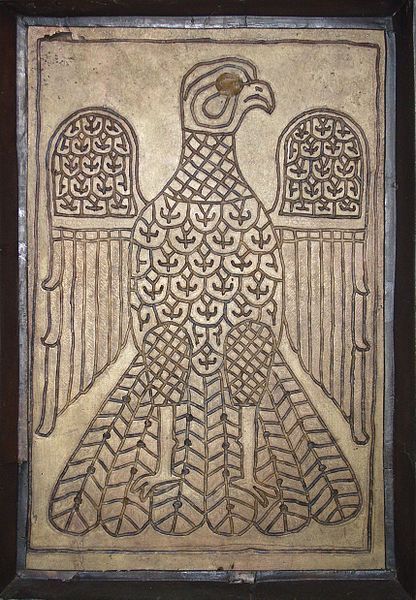 Byzantine emperors made gifts of doors to churches in Italy. Southern Italy was a part of the Byzantine Empire for a long time and most of the population spoke Greek. The major cities had trading relationships with Constantinople.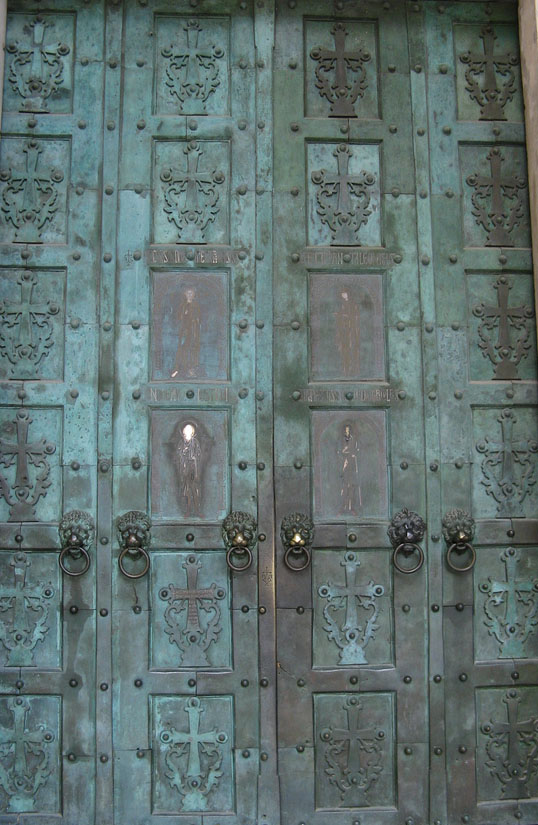 The door below is 12th century and came from Constantinople. It adorned a cathedral in Vladimir-Suzdal and arrived at the same time as the famous icon called Our Lady of Vladimir. John II Komnenos married two of his sons to Russian princesses. Both of them became scholars, one was a famous expert on in medicine whose writings survive until today. They spoke amazingly beautiful Greek as if it was their native language.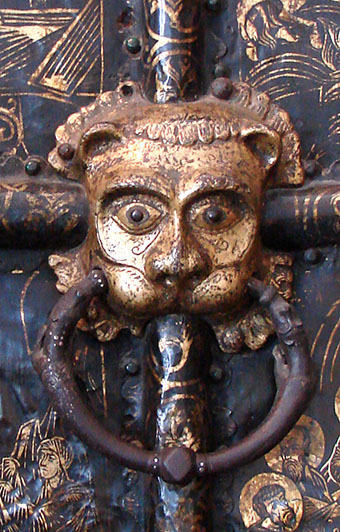 ---
Marble Head of Constantine the Great
---
This head dates from A.D. 325–370. It was discovered in Rome in 1631. Like other portraits of Constantine the large round eyes look towards heaven or the sky. Here we see Constantine's large nose and his signature haircut.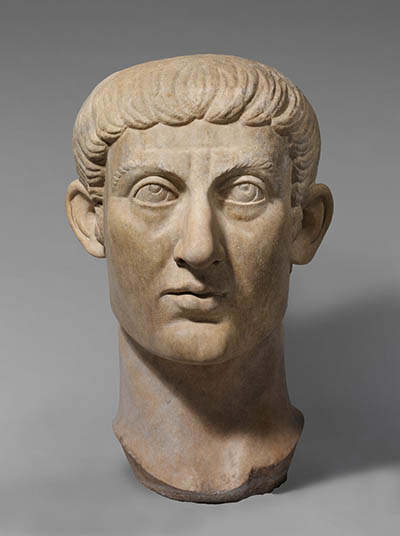 This marble head of Constantine is big - 37 inches tall and weighs more than 1100 lbs. We don't know hat kind of marble it is carved in, but it looks mass-produced in middle-grade stone. It was probably from a mass order for heads to be inserted into over-life-sized statues. It would have been easier to ship the heads from a central workshop around the empire. There would have been many statues that could be found that could have the heads switched out. This was done all the time. Since the head was meant to be placed in another statue - most likely with drapery over the head, it was not necessary to finish the hair.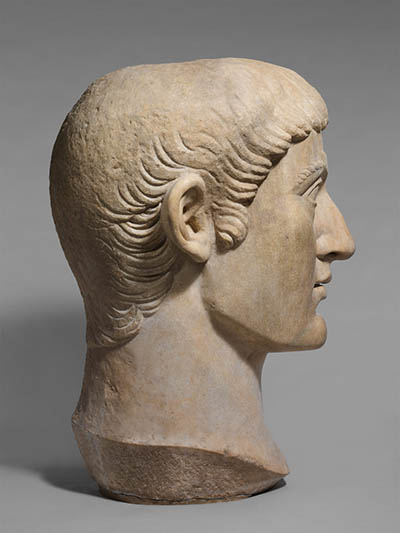 Wow, what a profile! The portrait head resembles Augustus. The mouth and chin are finely modeled. The resemblance to Augustus would have been intentional.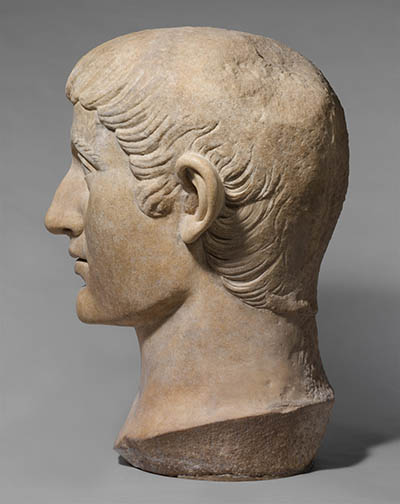 This bust has survived in an amazing condition. The nose is perfect.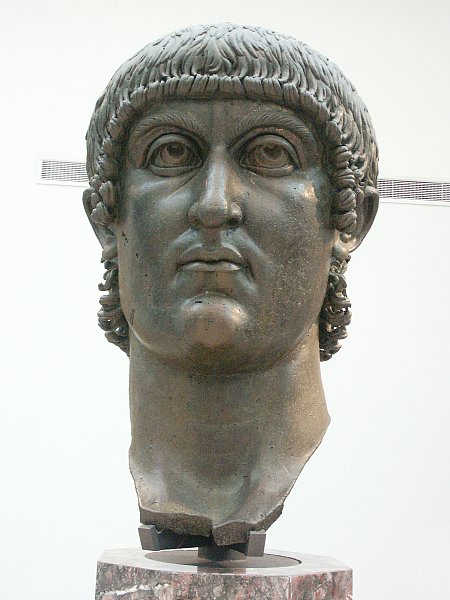 This colossal bronze statue of Constantine is in the Capitoline Museum in Rome. A finger from this statue has recently been connected to the hand. The hand is below. The finger has been previously believed to be a toe from another, unknown, colossal bronze.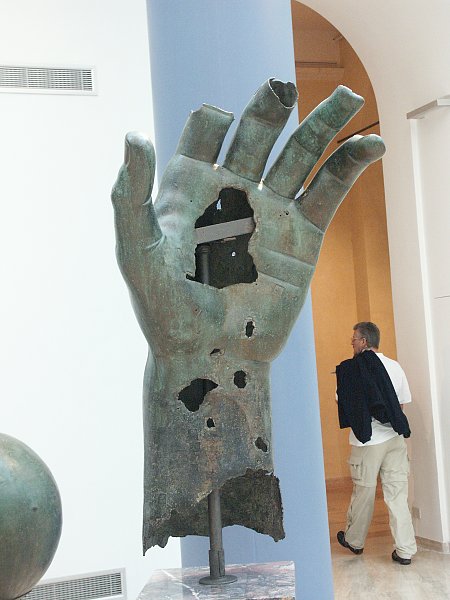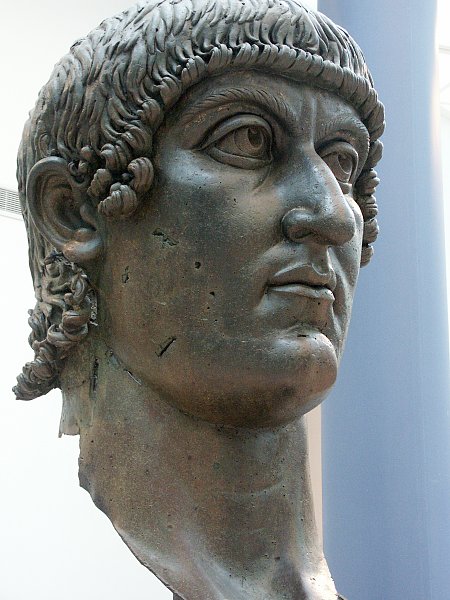 Watch the statue being moved on YouTube.
---
Collections of Beautiful Icons
---