---
Icons of Archangels
---






---
Columns of Hagia Sophia
---
The capitals are carved in marble from the Proconnesus island in the sea of Marmara, near to Constantinople. In fact Marmara means Marble in Greece. Hence the sea was called the Marble Sea. The stone quarries of the island were exploited on an industrial scale during the early Byzantine era producing thousands of carved elements a year for building projects around the Sea of Marmara, in Greece and Asia Minor. Once can still see the capitals in various states of carving around the island that have been there for 1500 years or more. During the long period the quarry was exploited in Byzantine times work teams made marble elements for all sorts of things - like stone windows, staircases, columns and basins. Some items were finished and shipped ready to use; others were roughed out and sent to the building site to be completed on site. The capitals and marble elements of Hagia Sophia are huge, They must have required extensive finishing on the building site.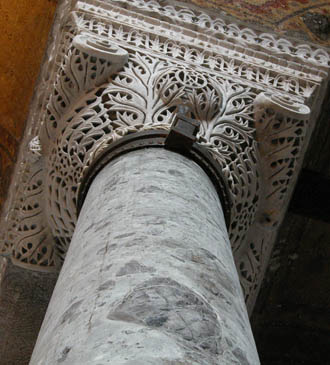 The capitals have monogram of the Emperor Justinian on them. We know the capitals were painted blue and gilded in the reign of the Emperor Romanos. Paint still remains in the deepest parts of the carving on some or all of the capitals.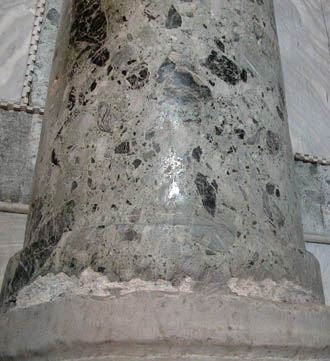 The columns are made of what the medieval Italians called Verde Antico, "Antique Green"; in Roman times the stone was called marmore Thessalonium, because it comes from quarries near the city of Atrax in Thessaly, Greece.. There are 4 dozen of these 56 ft tall columns in Hagia Sophia. The grey green stone is a breccio-conglomerate of serpentine, schist and marble.
In later times there was a legend the columns were brought from older Roman sites in Ephesos. People could not believe that such huge columns could have been made in Justinian's reign, however they were ready made for the cathedral. The columns are quite irregular on their surface. You can easily see this when you feel the columns with your hands. The marble also has a waxy feel to it, which is a characteristic of the serpentine in them.

The column above is carved from Proconnesus marble. Below is a column made of Imperial porphyry from Gebel Dokhan in the Eastern desert of Egypt. The purple color in this extremely hard stone comes from hematite. Although the stone is very dense it can fracture under stress. Many of the porphyry columns in Hagia Sophia show visible cracks and have been reinforced with bronze collars.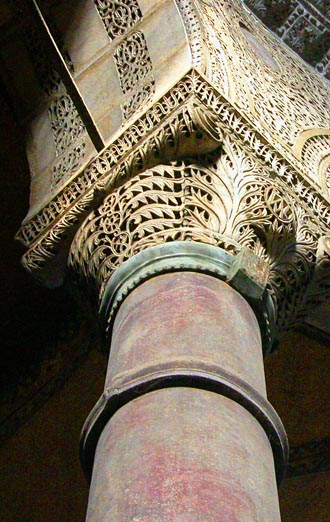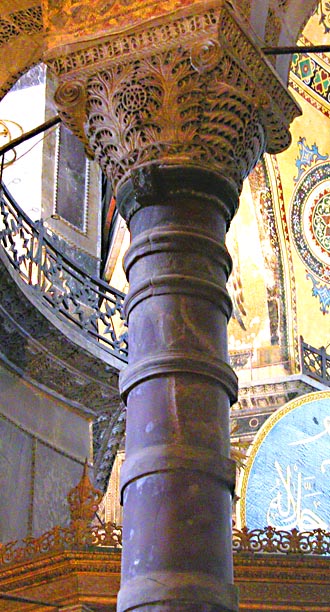 ---
Collections of Beautiful Icons
---