It's Sunday, December 10, 2023 and 44°F in Austin, Texas
Where to Find and Buy Old, Antique and David Austin Roses Online
Bob Atchison's guide to find the rare and unique
There are two times of the year to buy roses online, Fall and late Winter-Spring. This obviously depends on your region and when you have had your last frost of it's the later. Planting in Fall is the best, this enables your plants to get an early start on growing roots and getting settled in your garden. The main foe of the new rose in transit is heat - the later and warmer it is the more danger your plants are in. Sitting in a non-air conditioned truck can fry them quickly. All sellers watch carefully to make sure they don't ship roses when there is a risk of this happening. All online rose sellers sell by region, by climate zone. In Austin we are zone 9 or 10. It has changed over the years due to climate change - it's definitely hotter here in Austin. I also think we are experiencing more extremes in climate here.
I will start writing about David Austin Roses, since they are the now the 800lb gorilla in the room when it comes to buying antique and old fashioned looking roses. They keep getting bigger and bigger.
The first David Austin rose I bought was the climber Constance Spry, a one time bloomer with big fragrant flowers. I actually bought it from Roses of Yesterday and Today, a rose grower that is pretty much out of business today. in Texas I used to buy David Austin Roses from nurseries around Austin. It was here that I first found one of my favorites, "The Dark Lady". It's About Thyme was the nursery I bought a couple of Dark Ladies from. They recommended it, aid that it did well in our heat, was a repeat bloomer, they also said that some Austin gardeners though they could not grow David Austin roses here and that this plant would prove that wrong. I bought a couple of other David Austin Roses then, too and both of them did very well for me. The next year I went back to It's About Thyme to buy more Dark Ladies and they told me they could not get anymore David Austin roses for retail sales and that I would have to buy them directly from David Austin. I checked all over Austin and the surrounding area and this proved to be true, no one carried David Austin roses for retail sales. I called David Austin Roses in Tyler, Texas asking about where I could buy them in a retail nursery and there were none anywhere nearby. I am not sure why this was. Someone told me that some growers grow David Austin roses on some licensing arrangements, indeed some of the other sources are listed here. It looks like these are older varieties.
So, I decided to start buying roses from David Austin online and have been doing this online for six years. Their USA operations are outside of Dallas and I am told their roses are grown in Texas, but the last time I called and asked it seemed like this might have changed, I could get a direct answer. Being grown in Texas would be a huge plus for Rose gardeners in Texas, since that would mean they were 'born and raised' here. I have been told in the past that many of the roses sold in the USA came from California. Maybe someone knows the answer to where David Austin roses come from.
Over the last few years I have brought around 50 or so roses from them online. I have talked with them on the phone many times and they have always been very friendly and helpful. I always end of asking them to recommend roses for Austin, but I sense a reluctance to commit to specific roses. I am sure they get asked similar questions from people all over the USA all the time and they have to be careful. These days online reviewers can be brutal if you make a mistake. Th people at David Austin must have stressful jobs, especially when roses are shipping. I was pleasantly surprised to get fast call back on messages left on their answering system or email I had sent.
They ship both bare root and plants in 2 quart containers. They are $28-30 per plant and they often give discounts for multiple roses bought of a similar type. I use this feature and get three or more of a type at the same time. I like to plant them in clumps. You have to check to see if they are on their own roots or grafted on root stock. I prefer roses grown on their own roots, if it's available. I think they are healthier and live long on their own roots. For a grower the decision to propagate on their own roots are not has to do with how difficult is is to reproduce arose fast and in quantity. One of my favorite roses, the Bourbon rose Madame Isaac Pereire, is only offered as a grafted plant. I have planted three of the same roses within a few feet or each other. One of these sister roses gets eaten alive by bugs while the other two are ignored by them. I have no explanation for why this happens. It usually happens on fresh new leafy growth or new buds. My problems are with lace wings, thrips and aphids. I don't like to use soil systemics that might harm the soil or effect bees, so I spray as lightly as I can to control them. I use a spray of water to blast off aphids, but have too be very careful that I don't damage new growth. Water is such a temporary fix - they seem to be right back a day later.
David Austin guarantees their roses. I have had to replace a couple. One that I purchased as the the red rose, The Dark Lady, got its first blooms and they were she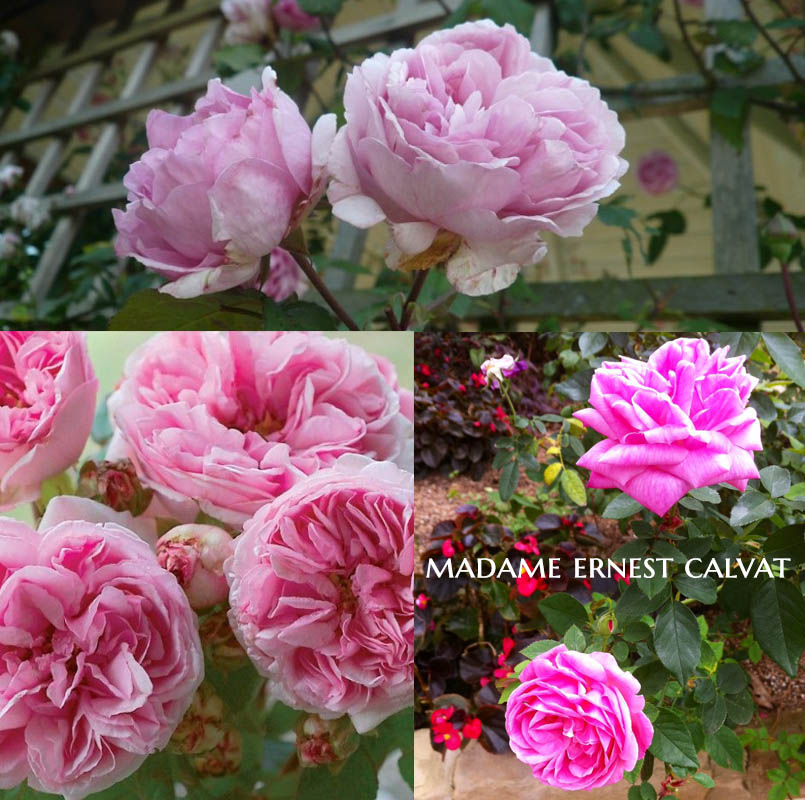 ll pink - plus the rose looked like a climber, you can see my mystery rose below. It sure grew well in my garden, whatever it was. It was too late to get a replacement that year, so they gave me a credit for the next year. I also had a rose die within a month of planting it, I don't know why. David Austin took care of that one too. Gardeners in Austin and central Texas report different experiences with David Austin roses and I think it's best to search for local review on specific roses they carry for advice. The best advice will come from Rose nuts - like me.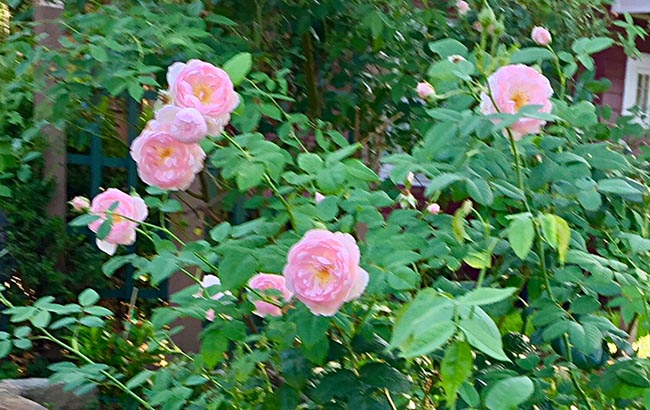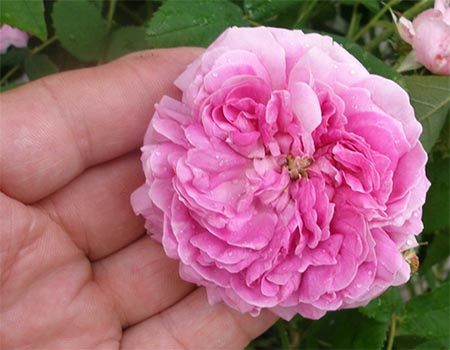 Most people buy David Austin roses because they are looking for the old English looking plants that have made them famous. The company was started in the UK and David Austin is one of the world's top experts in Roses, both modern and old. David Austin was a real person and he has written many books. Their website is by far the best online site for buying roses. It is beautiful, big and airy and there are lots of great pictures of the roses they offer for sale. Most plants have multiple views of their roses, with close-ups of blooms and foliage, and more distant shots showing full-plant views. Climbers are often shown on walls or supports. There are still too few pictures and some roses only have one of two images. The old roses have the biggest problem with this. Besides adding more pictures I would also like to see pictures with a rose bloom in the palm of the hand. If this was done one could easily understand bloom size visually. Some of their plants have smaller rosette-size blooms and this not apparent in the close-up pictures which show blooms all the same size. Rose size is clearly stated in their plant descriptions, so it's there but you have to look.
David Austin's plant listings have plenty of information about each one of them, including the parents of that rose. I don't like the descriptions on the right side because you have to click around to read the different categories of information. You can't see all the information at the same time. There isn't that much of it, so making it simpler to use would be helpful.
One of the things that people seem to complain about is fragrance. David Austin roses have ever rose listed with the type of fragrance it has. Some are listed as very fragrant and fragrant. David Austin will also often describe the type of scent it is, damask, old rose, tea rose - once you have smelled a rose with these types of scents you will never forget them. They say that an acute sense of is the thing that mammals had that helped us survive the dinosaurs. We could find our way around in the dark and find food by using our noses like moles do today. I think our sense of smell is also genetic and various scents are recorded by our brains differently. I have met people who can't stand the smell of some roses - or who cannot detect scents that I find very strong. I have been in wine tastings where people describe all kinds of flavors they can smell in the wine, when I can't smell anything. Is that just training? Do you detect more flavors they more you learn about wines? For me I know I can remember the scent of every rose that I have discovered that had a strong fragrance. They seem to be burned into some part of my brain.
Some roses have longer lasting scents than others, some have stronger perfume in the mornings. Here in Austin the heat can strip a delicate bloom, wilt it and eliminate the scent in 20 minutes of sun. I have had entire bushes stripped of all buds and blooms in half a day of June sun. I think the thickness of the petals has something to do with it. Bourbon roses do the best of any roses in Austin for fragrance. Madame Isaac Pereire, my favorite, magenta-pink rose, with huge blooms, is s bourbon that stands up in the heat. Madame Isaac is said to have the strongest old-rose scent or anything you can get today. It's pink sport, Madame Ernest Calvat, also has a strong long-lasting perfume. Another Bourbon winner is Climbing Souvenir de la Malmaison, which has a spicy-old rose scent from huge white quartered cabbagey blooms - and it thrives in Austin. I also like Reine Victoria (also called the Shell Rose) which has a fresh old rose scent that is very sweet, but this rose is harder to grow. It can suffer from bugs and blackspot.
One rose I have purchased from Antique Rose Emporium, Belinda's Dream is listed as very fragrant. I have purchased 5 of this rose so far and none of them had the slightest fragrance. I have read online that others have reported this, too. David Austin Roses says that The Dark Lady has a light scent and I find it very strong in my garden. I also have the red rose Munstead Wood, which David Austin says has a very strong fragrance. I think The Dark Lady is stronger
David Austin roses are $28.50 and $29.50 each and Antique Rose Emporium sells them for $19.95 per plant. They sell very different types of plants. You won't find hardly any of the same roses on both websites, except for a few old roses and a couple of old David Austin roses, like Graham Thomas, a yellow rose that Antique Rose Emporium offers. I had one of these in my garden here in Austin and it did very well for 6-7 years then it died. I find roses from Antique Rose Emporium and David Austin to be the same sizes and they grow about the same.
Antique Rose Emporium is based in Brenham, Texas, about two hours from Austin. They have been in business for many years and have been the leaders in promoting antique roses for Texas and the south. Around 20 years ago they started propagating new varieties especially grown and developed for our conditions. In the last 20 years I have bought 50 or more roses from them, both through online sales and local nurseries like Barton Springs. I have never had any problems with any of them. They are grown in Texas on their own roots, which means they are 'Texas Natives'. They have many old roses that can't be found anywhere else. The website has a useful feature where you can sort roses looking only for those that are 'in stock', a very useful feature. I find it very frustrating to browse for roses on other website and find that none of the ones I want are available. Also, their website allows you to see everything you want on one page, rather than having to load page after page with ten roses on a page. The main problem with Antique Rose Emporium is that the pictures are much too small and the entire website is old and outdated, especially when compared with the David Austin website. Of course Antique Rose Emporium is locally owned and totally self-funded by the founder. How they survive is anyone's guess. I used to know Carol Martini of the Martini family winery and my company used to build and operate their website. Carol used to tell me that her family were just 'farmers', growers of grapes totally at the mercy of God, the climate and the economy. All of her family, even the wine-master, got their hands dirty, growing and harvesting the grapes. It's true that the business of growing and selling roses is basically the same, growing them, harvesting them and shipping product. You never can be sure what the public will be buying from year to year and what your sales volume will be. It's a tough business and I respect companies like Antique Rose Emporium and I hope they succeed and do well. If anything ever happened to them we would probably loose access to dozens of unique roses that you can only get from them. Unlike David Austin Roses who has millions in backing from a global operation, Antique Rose Emporium runs its business year-to-year and the owner writes all the checks.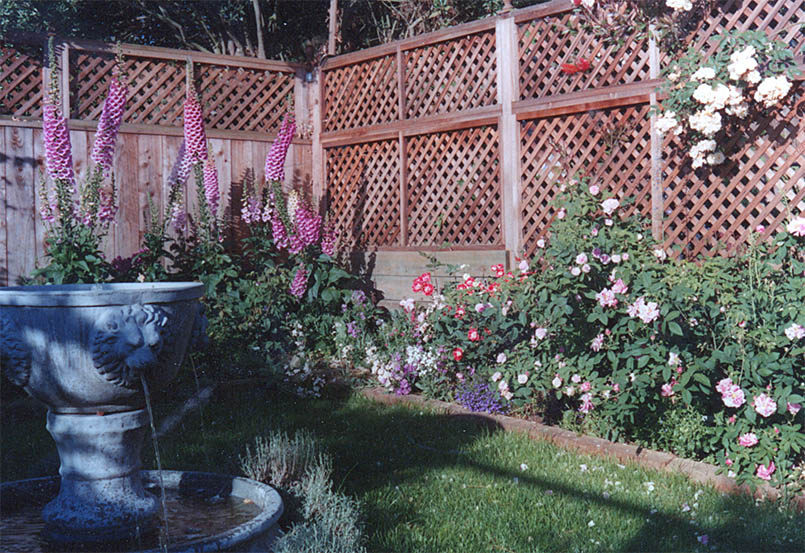 Above is another view of my garden in San Francisco.
Before the days of the internet and online sales I used to order my roses from printed catalogs and pick them them up in nurseries. Everybody used to buy Jackson Perkins roses. They would arrive in local nurseries and be off-loaded from huge trucks in thousands of boxes with pretty pictures with names like Mister Lincoln and Peace. Everybody grew them. They would sell out in a few weeks, especially the new varieties. You can still buy these roses, like Iceberg, from Jackson Perkins. My sister-in-law, Kathy gave me a Cream Veranda rose from them this year. I was amazed at how beautiful and healthy it was. The shape of the roses was very cabbagey and old-fashioned in form. It looks like it is going to do very well in my garden. When Kathy told me about the rose and that it was on it's way to Austin, I went to the Jackson and Perkins website to find out more about it. I was surprised to see so many of the roses I loved in my baby days as a rosarian could still be purchased 30 year later, it brought back a lot of memories to see Sun Flare, Angel Face, French Lace and lots of other roses I used to grow when I lived in San Francisco and spend my weekends at the Sloat Garden Center.
I think I first heard about antique roses on the PBS show, The Victory Garden in the late '70's or early 80's. I asked the staff at Sloat about them and they told me about Roses of Yesterday and Today, a grower and retailer of old and antique roses about three hours south of San Francisco. I started buying from them and eventually my Jackson and Perkins rose garden was transformed into an old rose one. After two generations of grower-owners of the business died they went out of business in the mid-nineties. I have a copy of their last 1993 catalog. It had a color cover, but was totally black and white on the inside. Can you imagine selling roses in a black and white catalog? I remember that they used to charge for the catalog and they charged $19.00 per rose back then. Where they found all the old varieties they offered in their catalog we'll never know. They were the only source for roses like the old Damask, York and Lancaster, Common Moss, and species musk roses. I know some of the roses people bought from them 40 years ago are still alive. They had a big fan base and their annual sales events would attract thousands of people to their nursery in the Santa Cruz Mountains.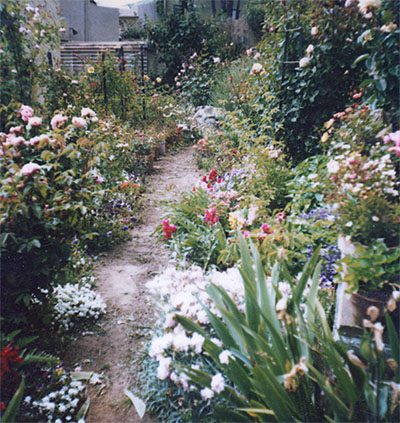 I had more than 100 varieties of old roses in my garden in San Francisco, you can see it on the left, it really was a jungle of roses. It was south-facing on the side of a hill. In season I was able to harvest four grocery bags of flowers and petals a week and made my own potpourri. The Bay Area has an ideal climate for roses; but it came with the curse of the disease rust and daily fogs that drifted in from the Pacific which caused havoc, balling up big cabbagey roses like Souvenir. The fog and dampness was a perfect environment for both rust and mildew.
I also used to buy roses from High Country Roses for my parents cabin in the Washington Cascades. They have lots of species roses that you can't find anywhere else. They also carry most of the old roses I like. They are $14.95 and $16.95 and are grown on their own roots. I wish I had lots of space so I could grow some of these species roses like Rosa Eglantera.
If you have any comments please post them below.
Also below is a picture of all of the antique roses you can buy from David Austin Roses.
Bob Atchison