It's Sunday, December 10, 2023 and 44°F in Austin, Texas
Is Scotty Bowers Telling the Truth About Hepburn and Tracy?
Is Scotty Bowers, the famous Hollywood pimp telling the truth about Spencer Tracy and Katharine Hepburn? Here's a confirming story...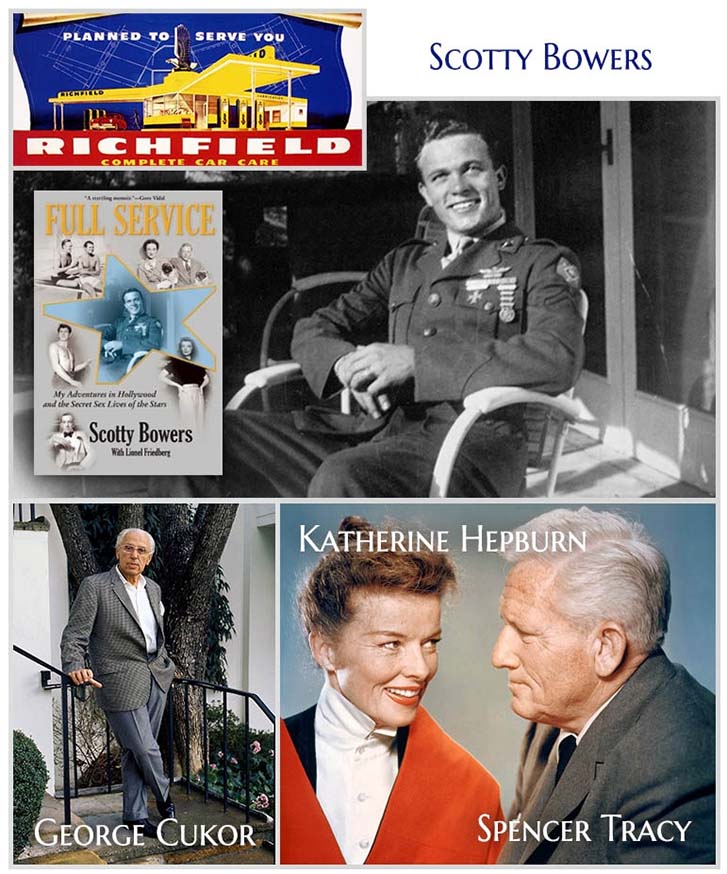 In 2012 Scotty Bowers came out with a book called Full Service which described his experiences as one of the greatest pimps in Hollywood history. Scotty worked out of a Richfield gas station on Melrose in Los Angeles. You can still see where it was, but the station was pulled down years ago. Here's a picture of it below: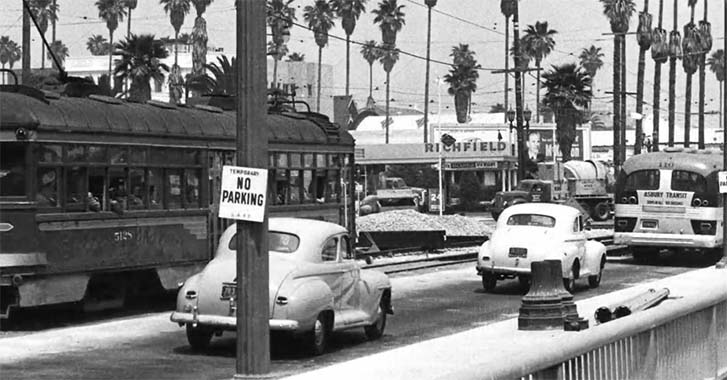 The book is Scotty's life story written with a co-author. He has not hesitated to name names in frank and shocking stories about his sexual adventures with both male and female stars and celebrities. He also related how he procured women for people like Desi Arnaz (Lucille hated him for it). In the book he recounts how he set up men and women for bisexual orgies with the Duke and Duchess of Windsor. Many famous movie stars were outed as his clients and sexual partners; Tyrone Power, Cary Grant, Randolph Scott and even Bob Hope. Bowers was also involved with director George Cukor and composer Cole Porter. He describes heterosexual orgies he had with Errol Flynn and starlets.
For many people the most shocking thing they will read in the book was how Bowers arranged 150 women for Katharine Hepburn, who was - obviously - then a lesbian. Bowers also claims he arranged for male sexual partners for Spencer Tracy and had sex with him as well! Many people will taken aback reading this, up until now the public assumed that Hepburn and Tracy were one of the great heterosexual romances of Tinseltown and long-term lovers. But Bowers clams the truth was something much different and he has first hand evidence to prove it. The love affair never existed and it was drummed up to throw people off the scent of the truth. Hepburn and Tracy were bearding for one another. Both of them lived for long periods of time with Hepburn's favorite director and close friend, George Cukor. It is no secret that Cukor was gay and one of the most famous homosexuals in Hollywood for decades. He was also famous as one of the great entertainers in Los Angeles. Below is a picture of Cukor with Hepburn.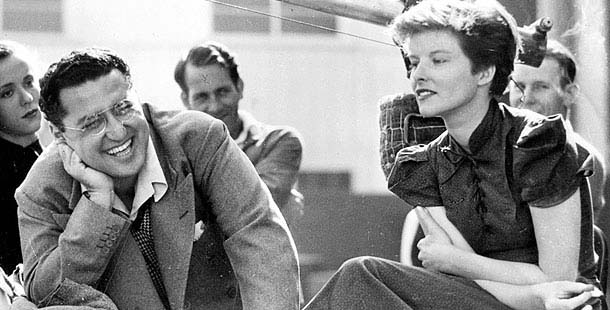 I can provide evidence that what Scotty Bowers says is true about Hepburn and Tracy being gay. Almost 30 years ago I had a close friend who lived and worked in Hollywood and Southern California. He owned a famous firm that did work for the wealthy and the famous. He had gotten his start being one of George Cukor's 'boys'. He went to his parties and had a romantic relationship with Cukor. He told me that Cukor kept his gay and Hollywood celebrity parties separate. He attended dinner parties and also the famous Sunday poolside parties. In my friend's case he was able to cross the divide between Cukor's gay and 'straight' worlds. I assume this was because of his success in business. Cukor helped him get jobs and commissions. Eventually my friend had dozens of people working for him. Later he lost everything. When his celebrity business slipped away he waited too long to cut staff and reduce the expenses of the workshop. You can still see some of his creations in movies and dotting the landscape of Southern California. I have lost track of him and no one seems to know what where he has gone. He used to come and stay with me in Austin. When he was he here he would tell me about his experiences and the secrets of Hollywood he knew.
Cukor told my friend that Hepburn was a lesbian and that Tracy was a highly repressed, self-hating gay Catholic and alcoholic. Tracy lived in a house Cukor owned where he would meet men for sex. This is where Bowers says he had his sexual encounters with Tracy. It seems Cukor had a big mouth and told my friend basically the same stories about Hepburn and Tracy that Bowers does. Cukor, Hepburn and Tracy were very close friends. I think Hepburn had a house on the Cukor estate for more than a decade. Cukor told my friend that the silliness of the story of a Hepburn-Tracy romance showed how gullible the public was and how effective Hollywood PR could be. Things have not changed.
My friend also knew Scotty Bowers and used to tell me stories about him, but they seemed so wild and outrageous I was incredulous at the time, but loved hearing about the famous pimp in Hollywood. He never called him a pimp, just that he was arranger who could find you anything you wanted. Bowers was a good friend of Gore Vidal who vouched for Bower's book and the truth of everything in it. He even allowed his name to be used to endorse the book.
One of the other stories Scotty tells is that he arranged sexual partners for the Duke and Duchess of Windsor. In his book he used weird nicknames for them that seemed ridiculous and made-up.
"Eddy was good. Really good…"; "Wally always behaved like a perfect lady… Unless I was personally involved in a three-way with her I never observed her alone with a woman…"
I had never heard them called Eddy and Wally before and for a while I had some doubt about Bowers because of him using those names, but I simply have to trust him on that. It is true that many Royal couples in history have had intimate names that they only used in private.
My friend also knew Wallis and Edward. I can't tell you how intimate he was with them or what the basis of their relationship was. He hated them. They were rude and nasty. I think it is safe to assume that there was something kinky in the sex life of the Windsors. Wallis certainly had Edward in her control sexually. I believe Bowers is telling the truth about them. I have read that there may have been some child-mother sex play going on between Wallis and Edward involving diapers. Imagine Edward's mother Queen Mary in that fantasy for a frightening nightmare! Before she met the then Prince of Wales, Wallis had a reputation as a woman who used sex to manipulate her lovers and husbands. They said she had professional training in various sexual techniques. She would have needed them if it's true that Edward was impotent and she was the only woman that could bring him to orgasm. Edward was not the only one of siblings who had sexual problems. His brother, George, the Duke of Kent, was bisexual and had relationships with many men. Some have claimed that his other brother, the future King George VI, who took the throne after Edward abdicated, was impotent and his children were conceived through artificial insemination. Below is an interesting picture of The Duke and Duchess with their adored pugs. They had pug stuff all over their homes, including silly pug pillows, that are probably worth tens of thousands of dollars now.
If you want to buy a copy Scotty Bowers book you can find it on Amazon by clicking here. I encourage you to read the Amazon reviews for a range of opinion on the book and its author.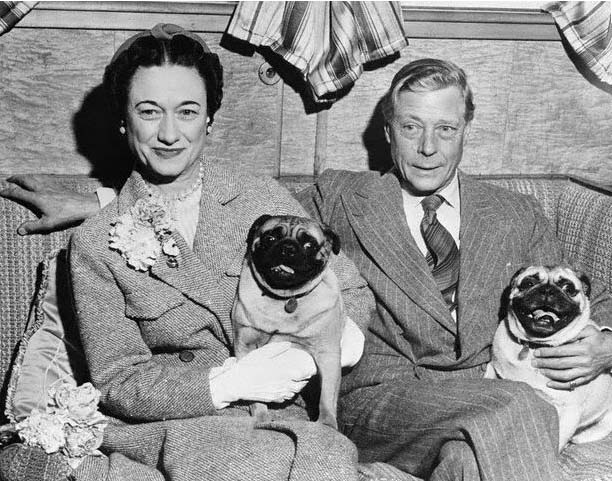 As a side note I met Katharine Hepburn in San Francisco around Christmas in 1976 when she was performing in A Matter of Gravity at the Curran Theatre. I worked in a storefront travel office across from Macy's on O'Farrell Street, a few blocks from the Curran. We had solid glass across the front and we would just watch people passing by. One day I looked across the street at the Macy's windows and saw Hepburn and a younger woman looking in the windows. I went across the street and stood by them and listened to them talking. Other people on the street recognized her, too, but I was the only one who talked to her. Hepburn was looking for men's sweaters for someone and I volunteered to help her find one. We went in Macy's and shopped in the men's department. People recognized her in the store but left her alone. Macy's security showed up but stayed in the background. The clerks who waited on us obviously knew who she was, how could you not recognize her. She had me try on a few things. I was surprised she only was interested in stuff that was on sale and really marked down. She liked one sweater in particular but didn't buy it. That was it, she and her assistant thanked me and left the store. I bought the sweater and kept it. She was nice and had the shaking you have read about. It turns out it wasn't Parkinson's.
Bob Atchison