It's Saturday, December 9, 2023 and 64°F in Austin, Texas
Should You Use Live Chat in Your Website?
If you want to increase sales live chat can help you do it. It's inexpensive, easy to implement and manage.
If you are selling services or products in a website you should consider using a live chat. If you are a store owner or sell online - even with only one staff person - live chat can help you increase sales at minimal expense and provide a better experience for your customers.
There are a wide range of things you can do with live chat. You can answer questions as people are looking at your products or services. It works better than telephone customer service because one person can effectively manage a dozen or more 'chats' at one time. You enlarge your customer service footprint without hiring more employees. Many of the questions people ask are the same and you can even have lists of answers that you can copy and paste into chat windows as they happen.
You can offer real time highly targeted discounts and coupons to customers. For example someone could ask you about a product's ingredients and you could offer them a first time customer discount or a special sale price to help close the deal. Everyone loves sales and discounts. Live chat systems permit you to watch the pages and products your customers are visiting in real time so you can see what interests them.
You can also see if someone is a returning visitor, when they last visited your site and all the previous surfing they had done with you. Olark, the system we use, also tells you the visitor's geographic location and IP address.
You can offer suggestions to look at other products. You can offer targeted products to people based on where they live. Having their location will tell you where your customers are coming from and if you have products that are that preferred in certain states, cities and regions. It will also show you the countries they are in. Even if you don't ship products internationally it's interesting to see if you have traffic from Ireland, Japan, Canada or India. We figure that ALL traffic from India is from online marketers and call centers looking for sales leads in the USA.
You don't have to wait for you visitors to initiate chat. You can talk to them and welcome them to your site. You have the ability to customize all the auto-messaging visitors see. If you are running a special promotion or sale the can see in the chat invitation on your site. You change this anytime and as often as you want.
Companies like home builders or real estate agencies can pick-up new customers by having chat on in their sales or operations offices. Sales people can also manage the Olark portal from home. You'll get a beep if someone is engaging you. If you don't answer a live chat request within 5 minutes Olark automatically signs you out and posts a message in your chat portal. You will still be able to view details on the chat you missed and where it came from.
Small service companies, like electricians and roofing companies, can close new jobs immediately by using live chat to quote prices and schedule inspections and work in real time. Web visitors are often shocked - pleasantly surprised - to find they are chatting with the owner operators of companies. These are the business that customers WANT to do business with.
Some companies have technical products that customers call about. It can take a long time to answer these questions. If you are a small operation you can waste a lot of time repeating the same thing over and over again on the telephone. You might have all of the answers in your product descriptions but it seems to be human nature not use search tools or hunt for answers online. Also, customers have questions about shipping and things like return policies that are easily answered in online chat sessions. Live chat can also reveal information that is missing or can't be easily found in your site - this can help you make website changes to make your site more effective.
You can easily sign in and out of chat when you are available. Customers see different graphics when you are online and ready to chat. When you are away the graphics change to "send us a message" prompts where your web visitors can send you emails. Even when you are signed out of live chat you can still monitor your site traffic and all the data I mentioned earlier. Everything is still being tracked for you 24-7.
Another important benefit of your online chat portal is you can see how your customers found you and the search engines they came from. SURPRISE! Not all traffic comes from Google. We see traffic from Bing,Yahoo and DuckDuckGo.
It can also show you when another website is referring potential customer to you. You will see what traffic comes from Facebook and other social media sites. This is really valuable information.
The programs are not expensive. Olark costs $17.00 a month and charge more based on how many admin-users you have. They have a free 14 day trial period. You can stop billing but keep your account active and turn it back on when you want. Most companies only need one or two admins. You can sent up different people to represent your company in chat. You can also create online personalities for people to interact with - like "Genius Tom" or "Sally the Fashion Maven". Olark does not allow a lot of additional customization, but you won't need it. Here you can see how I, Bob Atchison, appears in our Olark live chat window when I am available. People like to see who they are chatting with and they are impressed that we are real people they can interact with.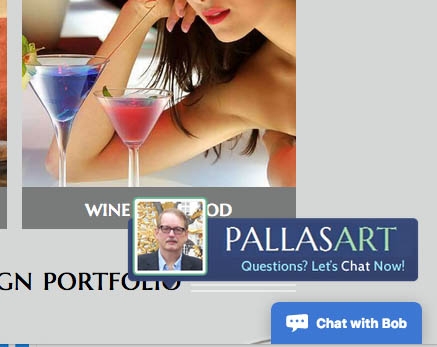 You are probably wondering if you will spend too much time answering questions that waste your time on silly or off-topic things. I haven't seen that.
Last week I remotely participated using Olark to helping a high school class pick the colors for their website. There was no business from that session, but it was fun and worth the time to helping them.
So, it's inexpensive and easy to implement.
It will increase sales and help you understand your market and customers.
You control when it's 'live'.
If you aren't using it now and want to consider live chat talk with us online to see how it works. It is inexpensive for us to implement and set it up for you. We can also create the custom features you might want.
You can see that we prefer Olark because it is inexpensive and easy to use, but we also implement LiveChat and other programs. These programs fit on multiple devices like pads and smart phones. Call me if you want to talk about live chat or any other website features or tools you are interested in implementing.
Bob Atchison
512 469-7454