It's Saturday, December 9, 2023 and 66°F in Austin, Texas
Cherokee ancestry - Shoe Boots, Clarinda Ellington and my DNA
Ancestry.com DNA verifies Bob Atchison's descent from a Cherokee chief and his captive wife.
I took the Ancestry. com DNA test to solve a family mystery. Last year I found out my grandfather was a Ralph Coston. I had never known the identity of my mom's father because she was born out of wedlock. Her birth certificate showed no father. When I was growing up I heard that my grandmother, Inez wasn't married when my mom was born. Inez and her sister, my great aunt Halley Faye, finally told me when I was a teenager, but my mom would't talk about it. She knew her father was, but she wouldn't tell me who he was. My mom said I would find out someday, but not from her. She said it didn't matter who he was and he was gone and I would never meet him.
My grandmother, Inez married a guy from Texas, Joel Goodman, when my mom was around 10. They moved to Seattle. Joel's family, a Jewish family involved in retail, were from El Paso and Mexico. My mom always called Joel dad. He and my grandmother divorced in 1955, when I was 3. I met him a few times when I was growing up. I haven't been able to find a record of their marriage. If I remember correctly they were married in Mexico.
I have a relative in Austin, Dorothy Jones Scott, who is 94. She was a first cousin of my grandmother and she grew up with my Jones family in Texas. She told me that my grandfather was Ralph Coston, son of T.C. Coston, a doctor in Clifton. She related the story of the scandal of my grandmother getting pregnant by Ralph. Ralph and his brother Cecil were friends of Dorothy and Inez. Dorothy told me how religious everyone was in the 1930s and a pregancy outside of marriage didn't happen in those days. As she tells the story, all the girls in our Jones family, in fact all the girls of Clifton, were grounded and could not go out without male escort for months after Inez was pregnant. The Costons and Joneses were close, all the families of Clifton were in those days.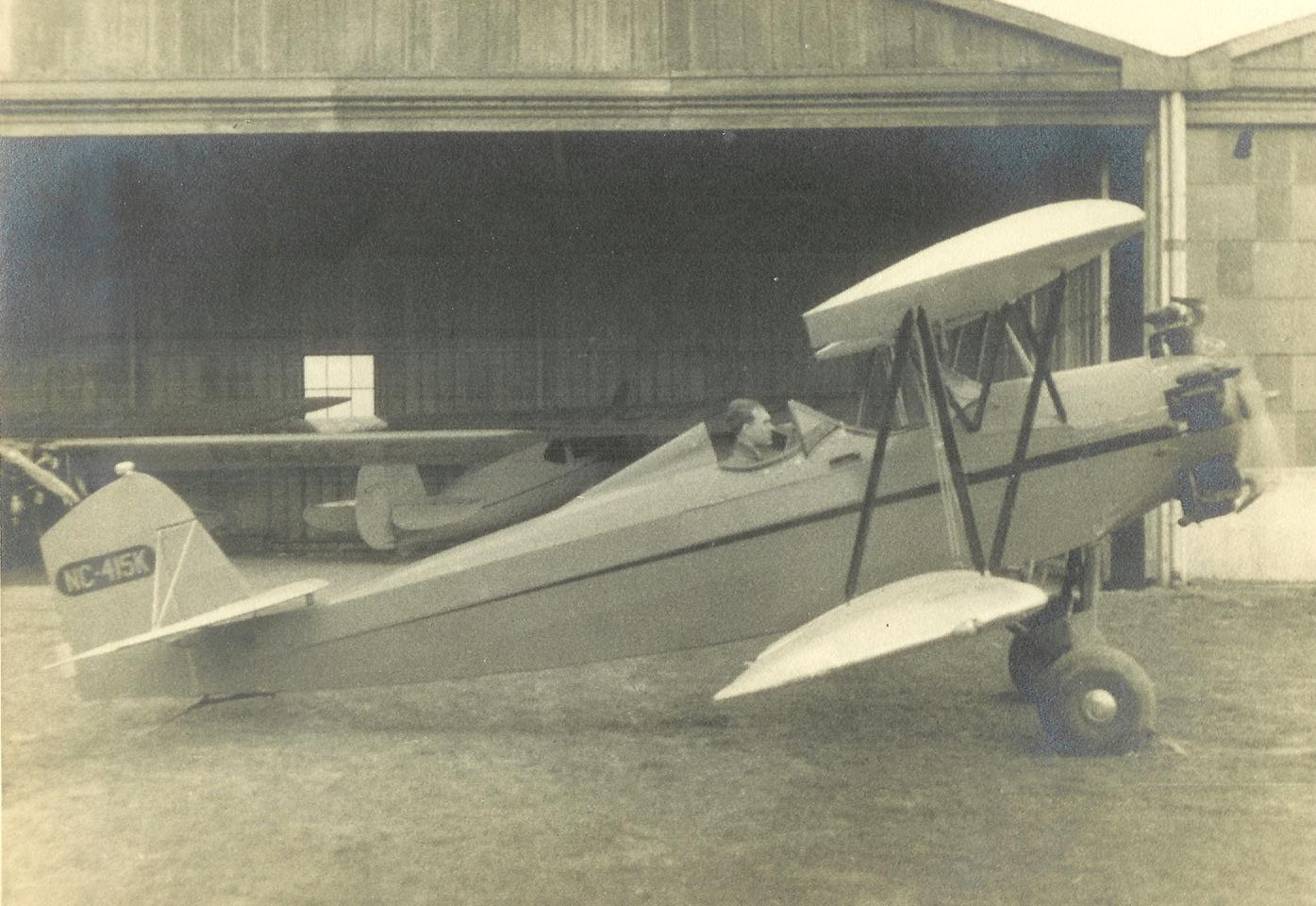 Ralph Coston in a Luscombe Aviation Plane.
Ralph Coston refused to marry my grandmother and was exiled from Clifton; his parents sent him off to pilot's school in New Jersey. In a few years he was one the pioneers of Luscombe Aviation. He built planes and was a test - demo pilot for them. Ralph flew all over the country, ending up in San Diego, where he was killed in 1940 while training pilots for the U.S. Army. Ralph was 30 when he died and never married. When I saw pictures of Ralph I was amazed how much he looked like my mom and my brother. I could finally see where the blond hair in our family came from - and my hated overbite!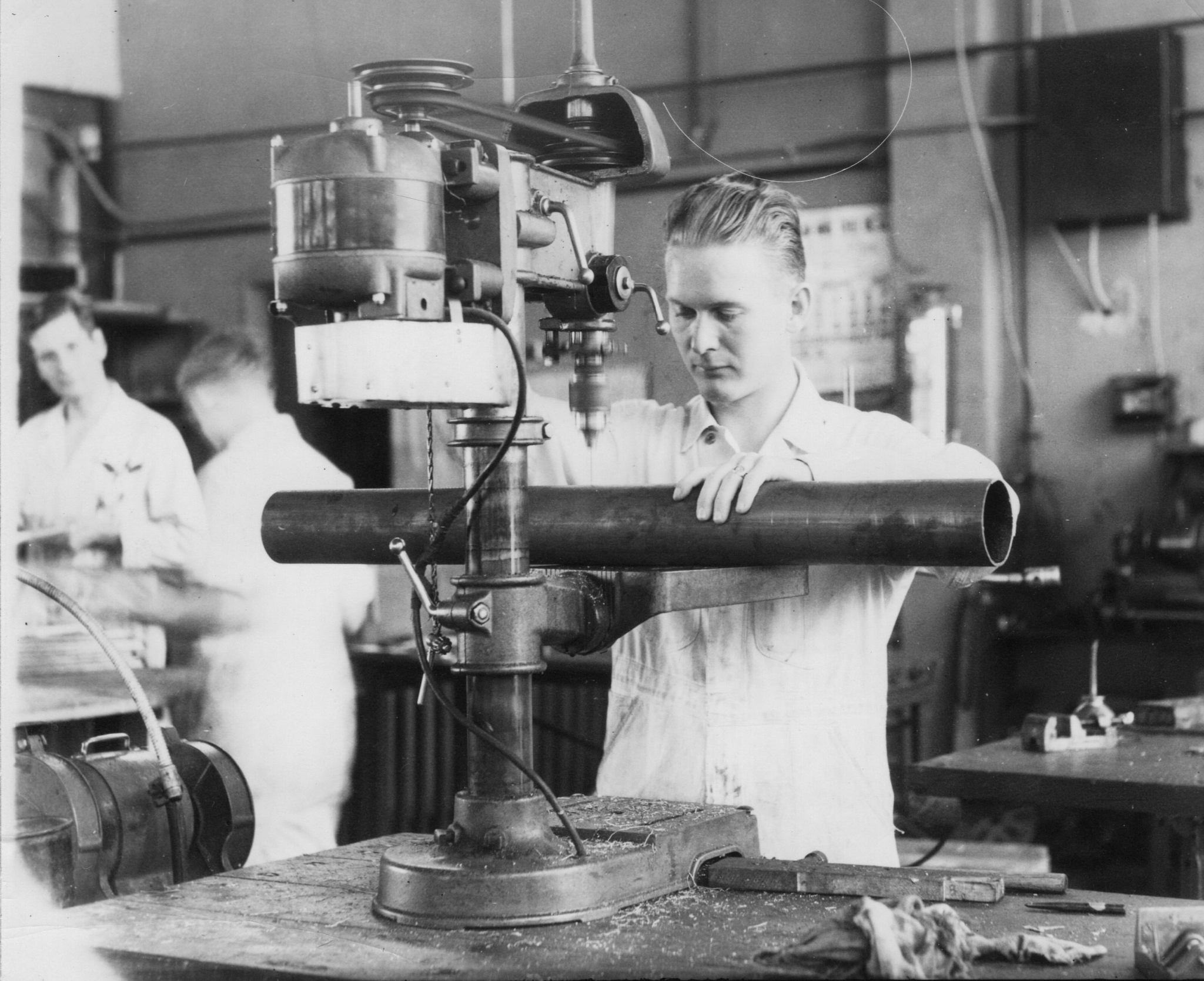 Ralph Working at Luscombe Aviation.
I found Ralph's family on ancestry.com and contacted them. A few weeks later I heard from Robin Hill. His dad Cecil was Ralph's brother. They saw my family pictures on Ancestry and felt right away we were related. I took the Ancestry.com DNA test and got lots of matches to their family, which proved Ralph was my grandfather. The most interesting matches were to Ralph's ancestors, the Cherokee Chief Tuskingo Shoebooks and his wife Clarinda Ellington.
Clarinda was the descendant of Issac Allerton, who was on the Mayflower. In 1793, when she was 11, Clarinda was taken in an Shawnee and Cherokee Indian raid on Morgan's Station, Kentucky. The raid was led by Chief Shoe Boots. A number of captives were taken and most of them were killed along the trail as the raiding party retreated. Shoe Boots saved Clarinda and took her to the Cherokee Nation, where she lived on his 400 acre farm. No one in her family knew what had happened to her. They assumed she had been killed with the other captives, but her body had not been found, so left some hope she was still alive. President George Washington sent out trackers to find her without success. In 1797, when she was 15, Shoe Boots married Clarinda. She had three children with him.
A representative of the Cherokee Agency discovered Clarinda in 1803. Clarinda told the agency she wanted to go home to her family and take her children with her. Shoe Boots did not want to let her go, he loved her and felt he had saved her during the retreat from Morgan's Station. He didn't see himself as her captor, despite the fact he had led the raid where she had been abducted.
Tuskingo Shoe Boots owned considerable property, including slaves, livestock, and orchards. He was very proud of what what he had accomplished and the comfortable life in a big house he was able to provide her. Clarinda's was esteemed by the Cherokee Nation as Shoe Boot's wife. Their children had a promising future among the Cherokee and would have received a good education. Shoeboots agreed to let Clarinda visit her family and take the children; he really had no choice considering how she had been taken against her will and the many women and children who had died in the raid. He sent her in considerable style, with new clothes, money, beautiful horses, accompanied by her three children two African-American slaves. Clarinda left and never returned. Chief Shoe Boots was broken-hearted at loosing her and begged her to come back. Clarinda's family wanted find Shoe Boots and have him killed, but Clarinda insisted he had treated her well and he must be left alone, in part for the sake of their children.
A year later, in 1804, the Commonwealth of Kentucky voted Clarinda, whose story had captivated the nation, a 3 year annuity. In 1806 she married again, probably since her annuity was running out. That marriage ended in divorce and Clarinda married again in 1815. For a while she traveled with her husband as a Mississippi riverboat entertainer. She lived the rest of her life in Missouri, dying in 1842, at the age of 60.
Clarinda abandoned her three children by Shoe Boots and they were raised by her brother. There were two boys, John and William, plus one girl, named Martha Ann. Later John was invited to return to the Cherokee as a chief, but he declined. William Rice "Shoe Boots" Ellington was Ralph Coston's great grandfather.
After Clarinda left Shoe Boots two years later, according the Cherokee law, they were no longer members of the Cherokee and were considered dead. (Actually, I understand you must have been born of a Cherokee mother to really be a member, but this seemes to have been overlooked in Shoe Boots case). Shoe Boots married his African-American slave, Doll, in 1806 and had another family with her, also naming their children, John, William and Martha. The amazing story of Shoe Boots decendants through Doll has been been extensively written about.
Shoe Boots was a hero of the Battle of Horseshoe Bend in 1814, where he commanded the Cherokee forces as a General in the American army. His conduct during the battle was recognized by Andrew Jackson. The U.S. Congress awarded Shoe Boots a gold, silver and jeweled sword and $1,000 in recognition of his bravery. Shoe Boots died in 1829 at the age of 83 on his plantation in the Cherokee Nation (now part of Georgia). He just missed the horrors the befell the Cherokee nation at the hands of the State of Georgia after his death.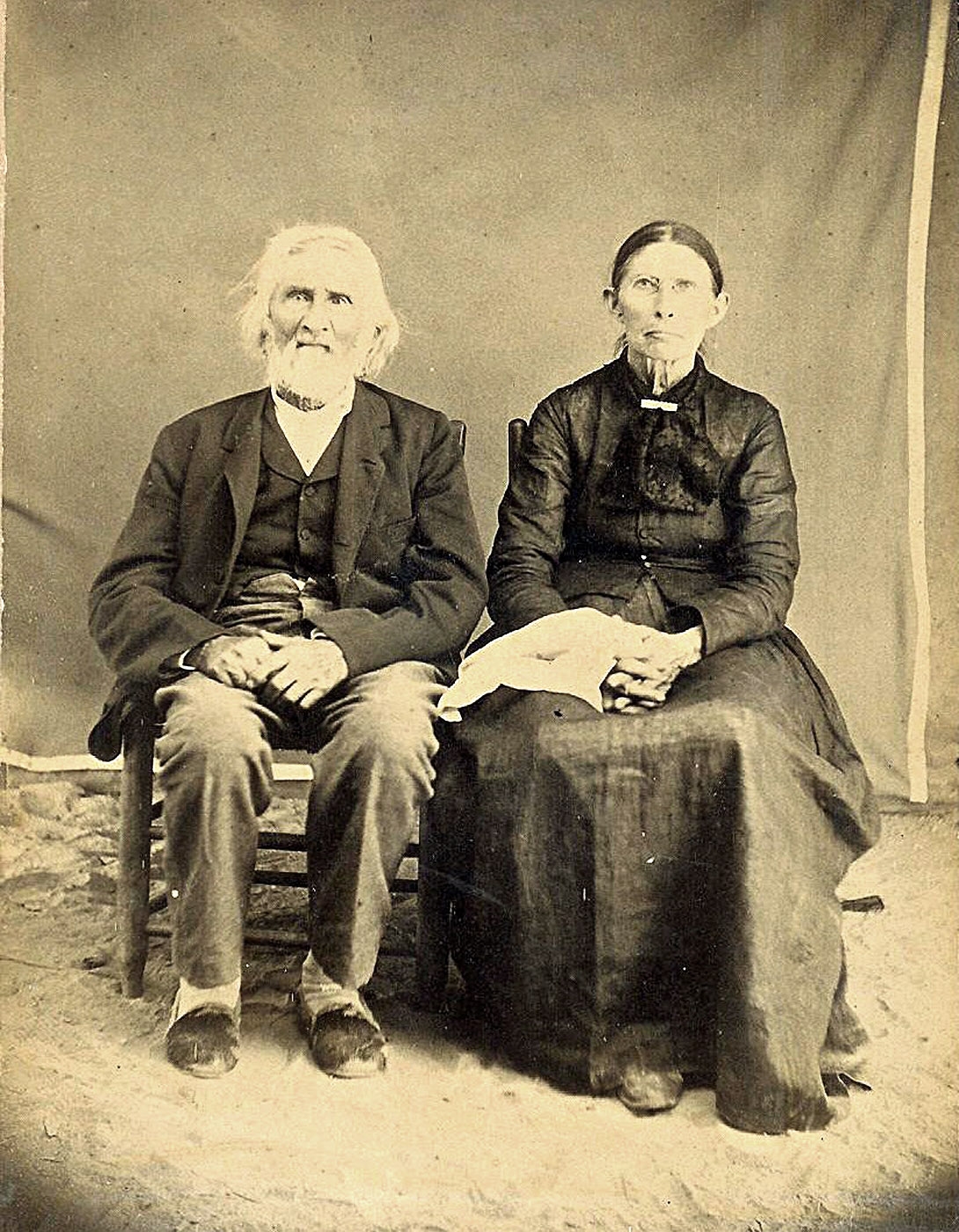 William Shoe Boots Ellington and his wife Martha around 1890.
My DNA test with Ancestry confirmed both my descent from Shoe Boots and through Clarinda to Issac Allerton. Ralph's family had told me about Shoe Boots and Clarinda - and my DNA tests helped them verify their own ancestry. At first I was unhappy with my Ancestry DNA test because I thought the results they gave me for my ethnic background were too general and not very valuable. What has been great are all of the matches I have had with other relatives in my tree. I have close to 40 DNA matches to the Coston, Jones, Sullivan, Moorman and DeLozier branches in my family tree. I now understand my Cherokee and European ancestry thorugh the Costons, something I never expected to find.
Bob Atchison