It's Saturday, December 9, 2023 and 64°F in Austin, Texas
Creating Your Facebook Business Page
what you need to know about your images
Many companies have pages on Facebook today and the number is growing quickly. It is not easy to establish a presence on Facebook, which is primarily a social-networking site, rather than a business marketing site. You may find it hard to reference your new company Facebook page immediately after you create it, it can take up to 24 hours for your page to appear in search results.
This is how our Facebook Pallasart Web Design page appears in Facebook: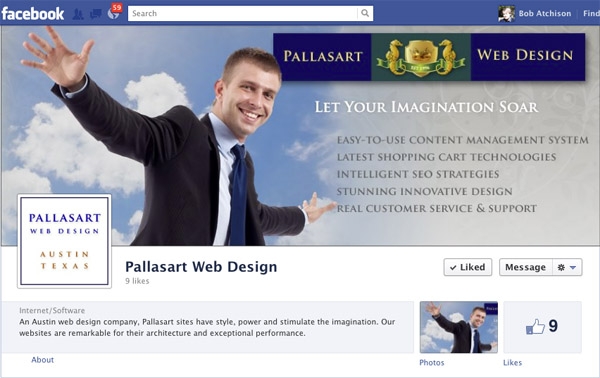 This page is composed two imagse that you will need to create and upload to Facebook. The first is the main banner image. The wide image on top is 840 pixels wide x 310 pixels tall. This is what it looks like when you create it (I had to resize this to make it fit in this article):

The small image to the left is for your logo. When you upload it Facebook will resize it to a square 180 x180 pixels. Here is what ours looks like - it's the actual size: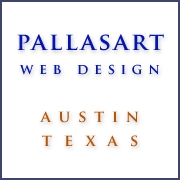 These two images are automatically combined on your Facebook page as you see at the top of this page.
The quality of your images is reduced by Facebook when Facebook uploads and displays it to people who visit your page. As a result colors can look a little washed out and images often times appear to loose sharpness and detail. Look above and compare how our images look on Facebook as they compare to the originals. Can you see how the blues shifted in the sky and how the gold words PALLASART WEB DESIGN are duller than the original? You will note text can especially be affected in your graphics. So here's a couple of tips - turn up the saturation of your photographic image before you upload it. Make the edges as crisp as you can by sharpening your graphic or image. Avoid small text thin text and using text shadows or your graphic or logo might look a bit blurry. Large fields of solid color - especially red - may look messy after upload. Remember Facebook will add a white border to your logo.
Don't worry if you don't get it right the first time, it's easy to switch out these images and replace them with improved versions until you get it just the way you want it.
Pallasart is a web design company based in Austin Texas. Contact us today for a new or redesigned site. We would love to hear from you.