It's Sunday, June 4, 2023 and 76°F in Austin, Texas
Central Texas Gardener on PBS Films Pallasart Garden
Popular show to feature Pallasart Garden in Austin
Austin local PBS affiliate KLRU visited the home of Pallasart Web Design President and Founder Bob Atchison to film his garden for their program Central Texas Gardener.

Producer of CTG Linda Lehmusvirta brought her video crew to the garden early in the morning, to catch the best light and stayed for almost three full hours, exploring the plants, statues and other garden features.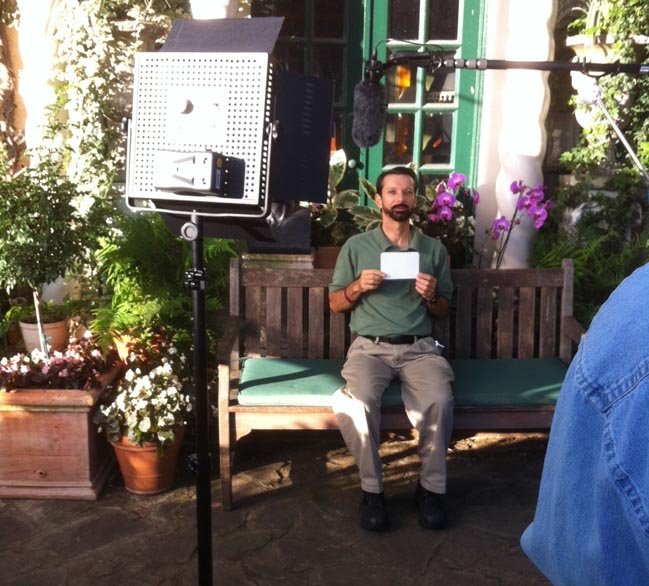 From their website: Central Texas Gardener showcases exquisite Central Texas gardens and teaches how to have your own beautiful garden. Find out when CTG airs in your area.

"Tom Spencer and I want to help gardeners avoid the mistakes we've made," says Linda Lehmusvirta, the program's producer. "Central Texas has a unique combination of soil and weather conditions. We want to provide useful information to our viewers, whether they're new to the area, first-time homeowners who aren't sure how to get started, or veterans looking for ideas."

Every week host Tom Spencer visits with experts who cover a lot of ground from plant selection to design. Producer Linda Lehmusvirta consults garden experts from around the state to get you the most up-to-date information on gardening in Central Texas.

Guests include growers, designers, nursery owners and authors. Visits to local gardens share homegrown stories and philosophies. Location footage captures inspiring ideas created by weekend gardeners on a budget, as well as techniques suggested by professional designers and landscape architects.
Rob Moshein
Rob@austinwineguy.com
Twitter: @AustinWineGuy

When I was young and living in Paris, Champagne was relatively inexpensive, so I used to drink a half bottle in the morning, and a another half bottle at 6 in the evening. I found it did me a world of good.
-Gerald Hamilton. "The Way it Was With Me"