It's Sunday, December 10, 2023 and 45°F in Austin, Texas
Amanzi Party Rentals - Before and After Redesign
See the stunning transformation!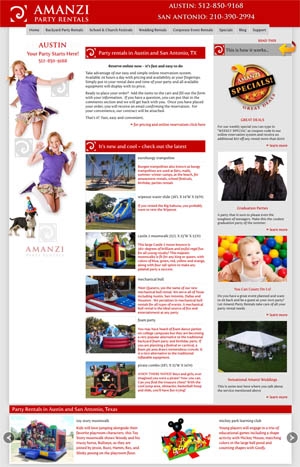 A few months ago Amanzi Party Rentals came to Pallasart and asked for a complete web redesign of their old site along with a new logo. Amanzi is based in Austin, Texas with locations in Houston and San Antonio. At right you can see the new design we did for them. It's fresh, bright, sophisticated and fun - all words which describe the Amanzi experience.
Click on the image at right for a big view.
The use of fire-engine red for banners on the site adds energy and power to the design. Grey and white go well with this bold, clear red. Pictures pop in this design and we added cool elements like the jumping twins and a dog wearing a fun party hat.
In the upper right you'll see an example of a custom specials graphic we created for Amanzi. It combines red, yellow stars and orange along with a bold black banner. It's hot and electric, drawing your attention to a key motivator for website visitors - deals.
You will notice how the girls literally burst out of the page and other elements rap around the edges of the page. These are all signs of a dynamic Pallasart site design.
At the bottom of the page there's a slide show that runs from right to left showcasing products with pictures and descriptions.
The site is very easy to update through a custom content management system we built for Amanzi, so they can expand and manage the site anytime they want. There is also a special, private section of the website for Amanzi staff.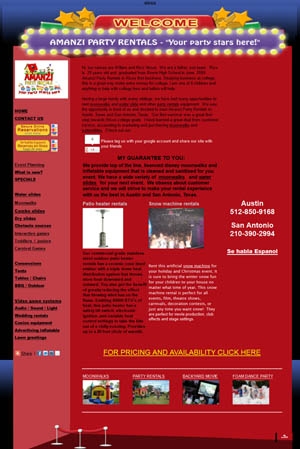 At left you can see their old site design.
We build all of our sites in PHP MySQL. This site also has a customized WordPress blog. Pallassrt creates custom blogs (like this one you are reading) and implements other blog programs like WordPress. Blogs can be incredible powerhouse SEO tools for businesses on the web.
If you would like to see a larger view of the old site design click on the image at left.
Call us and we can tell you how you can build your website success through specific SEO campaigns and organic site design.
Pallasart creates websites for Austin businesses, companies across Texas and around the world. Please call us today to discuss your project and discover what we can do for you.