It's Saturday, September 30, 2023 and 73°F in Austin, Texas
A Visit to Hopfields on Guadalupe
Austin is known for many things. Among them, a thriving, vibrant, progressive Craft Beer scene. Many Craft Beer pubs are based on kitschy themes, or are very casual with food as an afterthought. Others are pretentious, pricy, and run by "beer snobs". Not all beer pubs, however, fit into these categories. One in particular stands out above the rest. Hopfields, 3110 Guadalupe St., (512) 537-0467. Website www.hopfieldsaustin.com.
Their website describes their goals precisely. "Hopfields opened in November 2011 Hopfields opened in November 2011 by Bay and Lindsay Anthon, husband and wife team, to bring to Austin a comfortable and casual yet classy spot to imbibe on high quality craft beers, wines, and cocktails and enjoy homestyle french cooking." After more than five years, they have indeed delivered all of these aims.
With 48 beer taps they offer an extensive selection of unique, rare, well selected craft beers from local, regional, national and international sources. They are keenly tuned to the growth, creativity and quality of craft beers today, and strive for a diverse selection.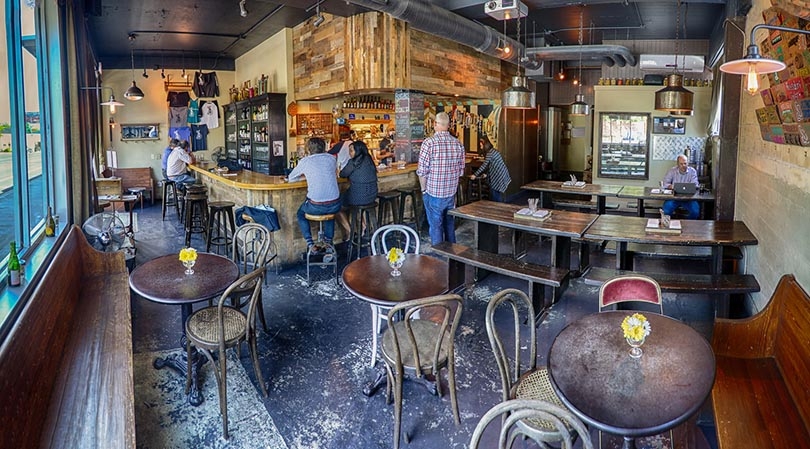 The atmosphere is low key and comfortable, but with a grown up vibe and elegant edge to contrast with the family style long wooden tables in the main bar area. By day, they offer a relaxed and comfortable environment, with a menu of comfort foods, all executed with the finest ingredients and care. Their Pascal Burger has been rated among the top ranked hamburgers in Austin for more than three years running. Salade Nicoise, Duck Pastrami Reuben Sandwich, Moules Frites, and Full English Breakfast and other dishes round out the daytime menu. In the evenings, the back rooms of the pub become a full service fine dining spot. A series of smaller, separated rooms keep the atmosphere intimate and comfortable. The dinner menu offers a changing, seasonal selection of dishes prepared to the highest culinary standards. Saturday and Sunday feature a daytime Brunch selection.
While their focus is primarily on beer, they also wanted a wine selection as exactingly chosen as the beers. A smaller size list (about a dozen wines by the glass, and 40 or so bottles) showcases wines from around the world, ranging from simple Roses to Grand Cru Champagne, Bordeaux, Burgundy, Italian and Spanish reds. Each wine is chosen by the owners' mother/mother in law and selected for quality and value for money. The wines are quite reasonably priced with 80% of the bottles on the list selling for $45 or less.
Service is at once low key, friendly, and on point. The staff is passionate about what they do and are well versed on every beer, wine and plate of food they serve. Happy to educate customers and share their passion.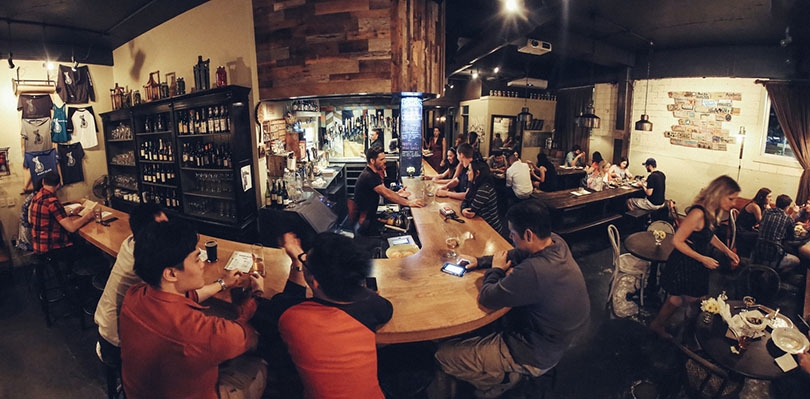 Hopfields offers a unique concept to Austin. A venue that is casual and comfortable to drink beer and watch the game on a big screen which can also be welcoming to upscale out of town guests or offer a delicious intimate upscale dinner for a special date or celebration.
The diversity of the clientele on any evening is testament to their having achieved their goals. 20 somethings, cutting edge "Hipster", college professors, professionals, local retirees, couples, and softball teams celebrating their game, all rubbing elbows comfortably and happily.
Enjoy Hopfields, that is their goal.
Cheers.
Rob Moshein