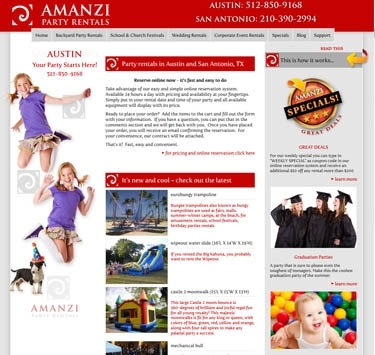 Amanzi Party Rentals
In 2012 Amanzi Party Rentals came to Pallasart for a complete redesign of their existing site, a new logo and the addition of new features to the site. The company was expanding to new cities across Texas and needed a site that could grow to accommodate the business as new locations were established. Amanzi was expecially interested in SEO and wanted a site to support their marketing efforts on the web.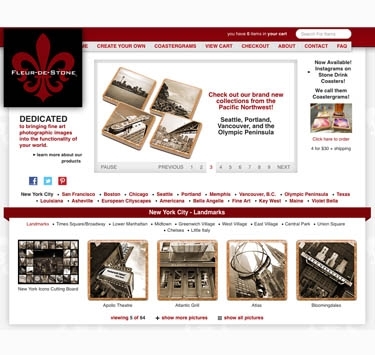 Fleur-de-Stone
Fleur-de-Stone had a very successful online business selling unique photographic images imprinted onto coasters, canvas panels and other home decor items. Pallasart built a new ecommerce site from the ground up, with a new design and cool new features to showcase their products and enhance the customer experience. Pallasart also added a cool new Instagram application.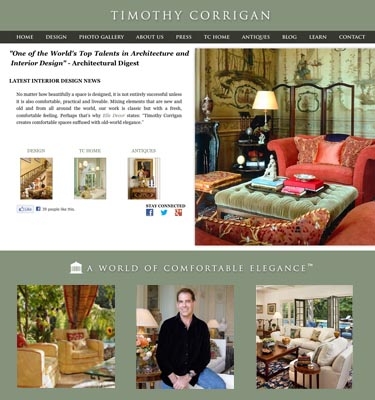 Timothy Corrigan
Pallasart has built three different sites for Timothy Corrigan. This site offers design services and an exclusive collection of antiques. Corrigan wanted a site that matched the "look" of his other websites and allowed customers to view highly-detailed images. Corrigan's staff can easily update this site and add new products and images as needed. Timothy Corrigan Antiques is a full e-commerce website.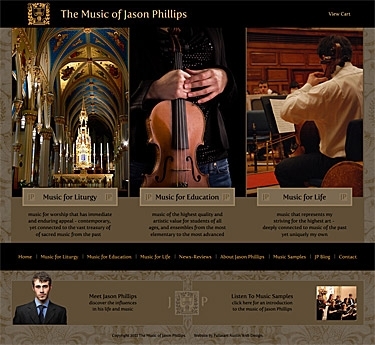 The Music of Jason Phillips
Jason Phillips composes and sells sheet music for Roman Catholic and Protestant worship services. He offers music samples, and score samples. This project included a new logo, complete new brand identity and custom ecommerce features. Music samples are available online and it is easy for this client to add new products to the site through their administrative dashboard.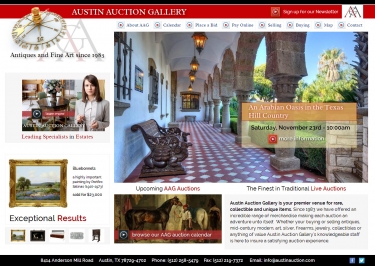 Austin Auction Gallery
We designed a web site to better highlight Austin Auction Gallery's rare, collectible and unique items that are available at their auctions. Since 1983 they have offered an incredible range of merchandise making each auction an adventure unto itself. Whether you're buying or selling antiques, mid-century modern, art, silver, firearms, jewelry, collectibles or anything of value, Austin Auction Gallery's knowledgeable staff is available to insure a satisfying auction experience.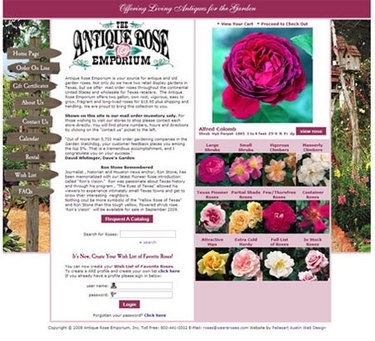 Antique Rose Emporium
Based in Brenham, Texas, Antique Rose Emporium is the leading source for Old Roses in the South. The site features an online store and information on hundreds of plant species. Pallasart designed and built complex databases to interface with the company's mail order management and shipping system. The site also has several special customer-friendly features, including a customer profile system and wish list.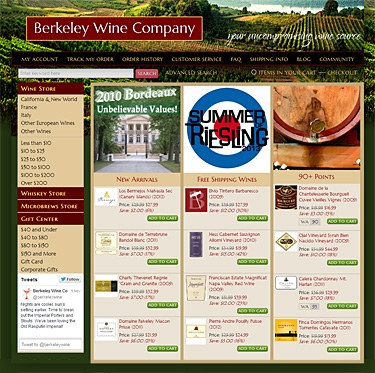 Berkeley Wine Company
Berkeley Wine Company is the number one retailer of wines in New Jersey and serves a wide, multi-state geographic area. This site allows the client to upload the company's huge product database on a daily basis, then process and ship a large volume of product to its customers. The site also features unique and easy-to-use search features that allow Berkeley to offer its products to customers looking for rare and unusual wines.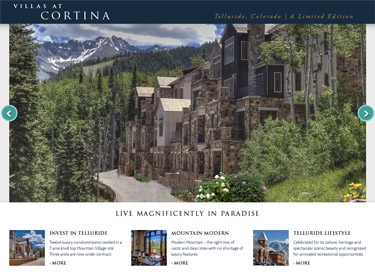 Villas at Cortina
The Villas at Cortina is a luxury real estate development located in Telluride, Colorado's Mountain Village. They needed an attractive and informative website that showcased the beauty and features of this new project.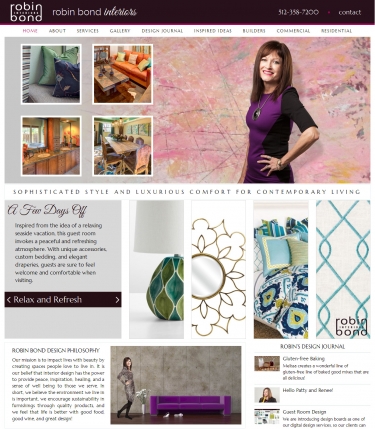 Robin Bond Interiors
Robin Bond is the top interior designer in Austin, Texas. She turned to Pallasart to build a new website that showcased her full-service residential and boutique commercial design firm.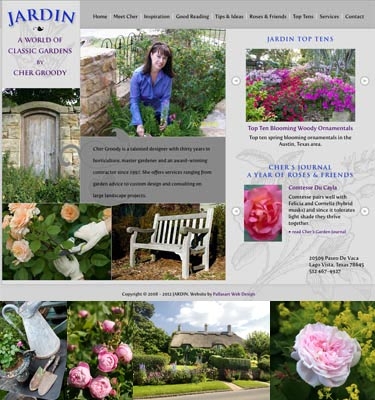 Jardin - Classic Gardens
Jardin is the website of Cher Groody, a well-known advocate of organic gardening and Old Roses. Cher offers advice and design services through her strikingly beautiful and bold website. This site was completely redesigned in 2012. New features were added, such as Top Tens and a new expanded blog section.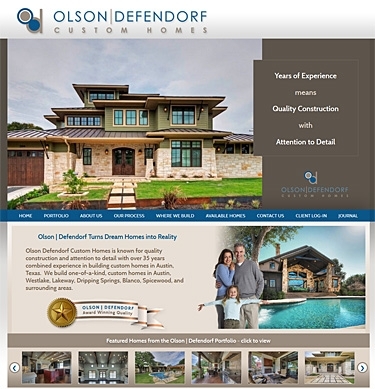 Olson Defendorf Custom Homes
Olson Defendorf Custom Homes is known for quality construction and attention to detail with over 35 years combined experience in building custom homes in Austin, Texas. They build one-of-a-kind, custom homes in Austin, Westlake, Lakeway, Dripping Springs, Blanco, Spicewood, and surrounding areas.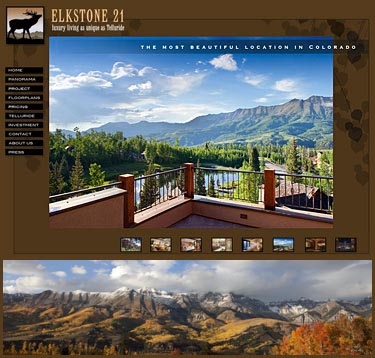 Elkstone 21
A new condominium project in the famous skiing resort of Telluride, Colorado came to Pallasart looking for a new website and logo identity. Elkstone 21 needed a leading edge presentation that reflected their style, craftsmanship and premium luxury.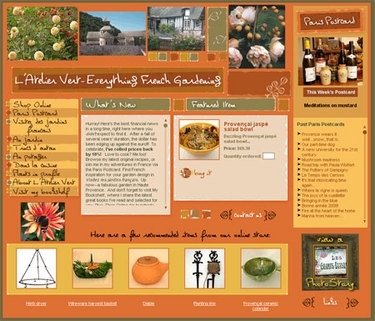 French Gardening
French Gardening "L' Atelier Vert" is the online home of the famous author, Barb Wilde. On her site, Barb chronicles gardening in France and offers a wonderful online store of delightful European gifts and gardening supplies. French Gardening has hundreds of online articles and pictures - all in an easy-to-manage database built by Pallasart.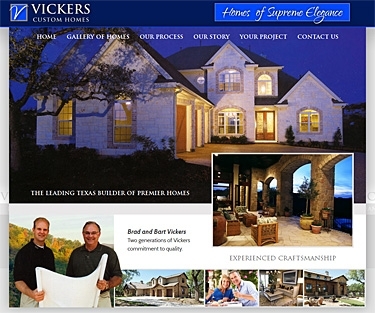 Vicker's Custom Homes
For more than 32 years, Vicker's Custom Homes has been serving clients from Houston to Georgetown, Texas. The company needed a complete redesign of an existing site and requested a management system that would enable them to easily add information about new homes, create image galleries and list available lots. They also requested new, stunning graphics to showcase their work.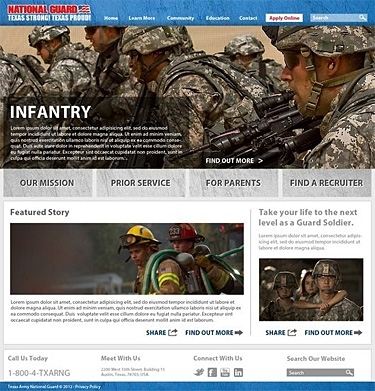 Texas Army National Guard
We are currently creating a new website for the Texas Army National Guard. The goal waas to make the new website attractive, informative, and easy to navigate.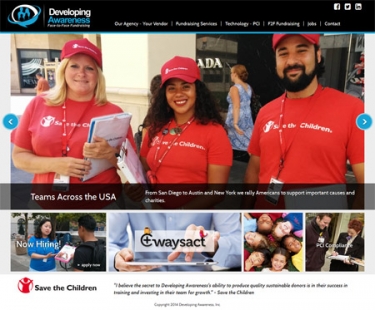 Developing Awareness
Face-to-face fundraising is the fastest growing fundraising channel in the nonprofit sector.
Developing Awareness your organization at the door, on the street, in the mall and at private sites. Face-to-face reaches supports not accessible through other traditional channels.
They needed an attractive and informative website to share their revolutionary approach to fundraising.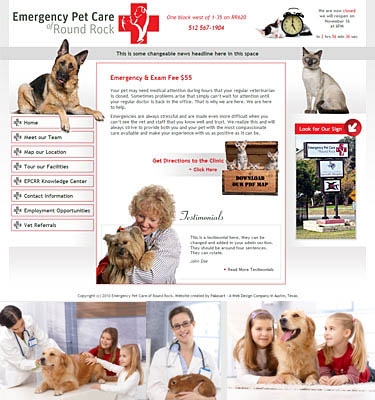 Emergency Pet Care
We are currently designing a new website for Emergency Pet Care of Round Rock. They wanted an easy to use site that they could update themselves and showcase all of the services they provide.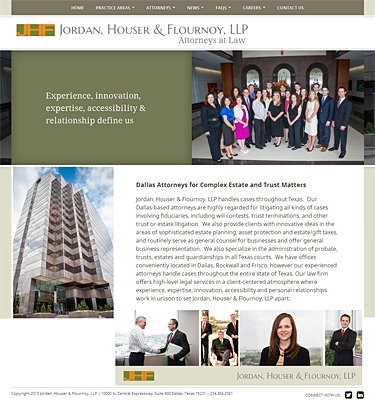 Jordan, Houser & Flournoy, LLP
Jordan, Houser & Flournoy, LLP are Dallas based attorneys for complex estate and trust matters. They selected Pallasart to build them a clean and sophisticated website that would be easy for them to manage and update with new content.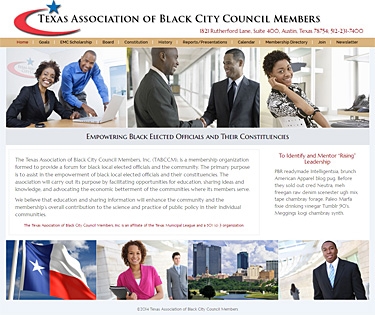 TABCCM
We are currently redesigning a website for the Texas Association of Black City Council Members. (TABCCM). They are a membership organization formed to provide a forum for black local elected officials and the community.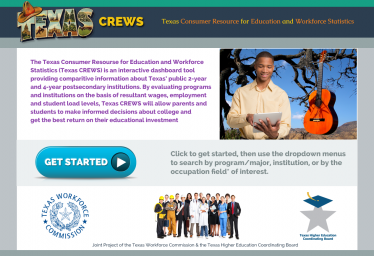 Texas CREWS
The Texas Consumer Resource on Education and Statistics needed an attractive front end web design for their portal that provides consumer information to students, parents and other consumers of education to assist in making informed decisions about colleges and programs of study. Pallasart worked with the state agencies involved to develop a user friendly website that would help Texas consumers to make informed decisions on educational investments.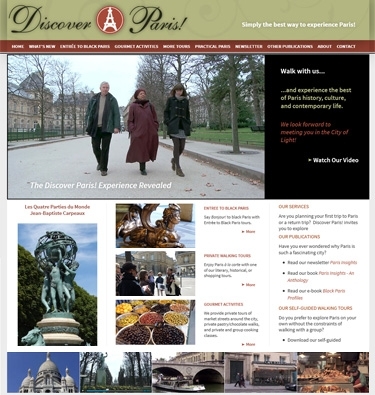 Discover Paris
The Discover Paris! website shares the company's deep knowledge of Paris with travelers who want to truly experience Paris as a remarkable and dynamic place. The website allows users to purchase newsletter subscription and various tours online. The design showcases the beauty of Paris through text and photos.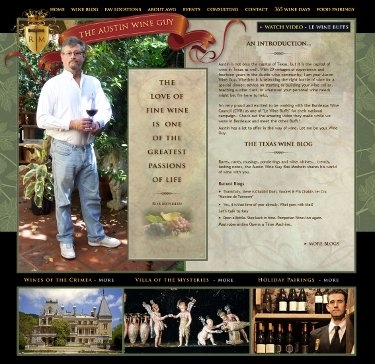 Austin Wine Guy
Rob Moshein is Austin's leading authority on wine. He asked Pallasart to create a bold and dynamic website to showcase his knowledge and services. The site has a number of features including a popular wine blog.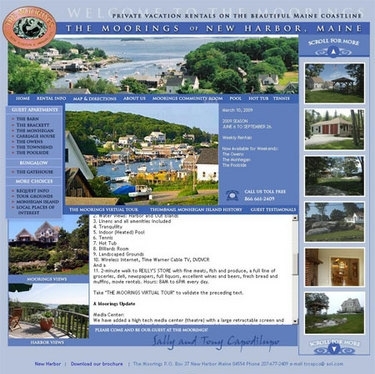 The Moorings of New Harbor
The Moorings of New Harbor is a private vacation resort on the Maine coastline whose website features hundreds of images of the resort and surrounding countryside. The company has been a Pallasart client for many years and its website has undergone several redesigns. The site's key objectives are to introduce potential guests to its unique location, comfortable accommodations and personal service.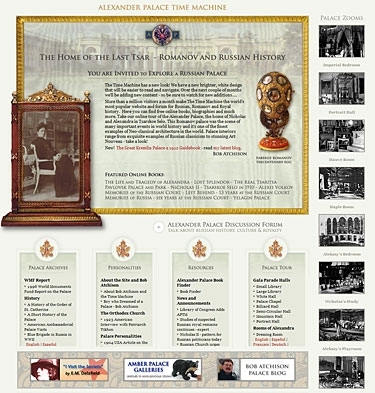 Alexander Palace Time Machine
This award-winning site, recognized around the world, attracts millions of visitors interested in Russian history and Royalty. It was the first website designed by Pallasart and was named "Site of the Year" by Yahoo Magazine. The Alexander Palace Time Machine is frequently cited on television and in newspapers and magazines, and it is the primary online source for Russian history in classrooms around the world. The site has a hugely popular discussion forum that receives tens of thousands of visitors each day.
here's a list to choose from