It's Monday, June 18, 2018 in Austin, Texas
Texas Army National Guard Enlists Pallasart
National Guard in Austin selects Pallasart as partner in new website.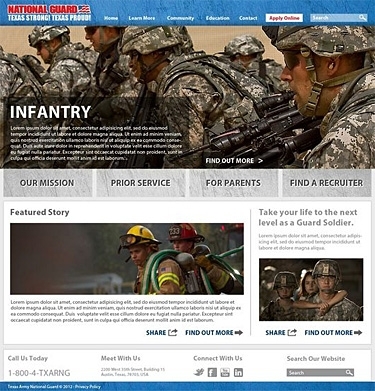 The Texas Army National Guard, based at Historic Camp Mabry in Austin, selected Pallasart to create a new website for them. Pallasart partnered with a Texas Army National Guard team of designers, marketing staff, recruiters and programmers in the project which began in January and was launched in the last week of February 2013.
The project involved a number of complex databases that connected web visitors to recruiters and their bios by zip code along with an online application system. A complete overhaul of the entire site was conducted from top to bottom and many new features were added to make it easy for staff to make changes to the site through a content management system Pallasart custom designed and programmed expressly for the Texas Army National Guard.
One of the requirements for the project was a fast turnaround with around 30 days to get the new site up and running, which was easily met.