It's Friday, June 22, 2018 in Austin, Texas
New Luxury Store Selects Pallasart
Apparel store "Desiring Eden" creates new site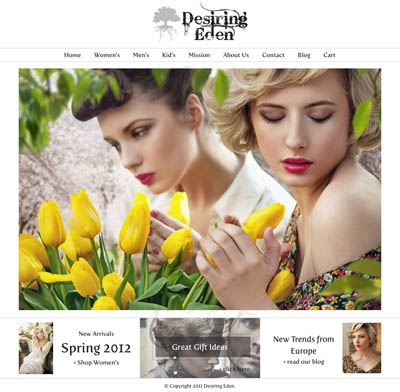 Desiring Eden is a new apparel company headquartered in Austin Texas. They have announced that they have selected Pallasart to build a new ecommerce site for them. The project is fully underway and will be completed by the end of 2011. Designs have been completed and programming is in full production.
Every website Pallasart creates is - from both a design perspective and programming - a unique creation. Desiring Eden wanted a high-end luxury look for their site that was clean and contemporary. The shopping cart was to have complete online retail functionality. A primary objective was to place an emphasis on dynamic sales promotions that could be easily manged by Desiring Eden staff. The company also wanted a complete inventory and sales management system. The entire website was to be programmed in PHP - MySQL. PHP is an open source programming language for the web and Pallasart's preference in building dynamic websites.
For many years, Pallasart has been a showcase design company for luxury and fashion stores. We invite you to contact us to talk about your web design project in Austin or anywhere throughout the world.