Lillie Langtry Scott-Terrier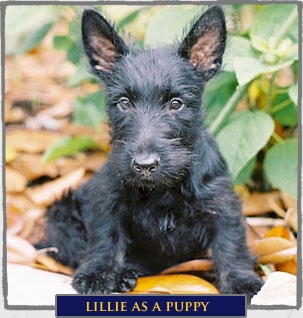 Miss Lillie Langtry Scott-Terrier is an all black Scottish Terrier born in Austin Texas on March 24, 2004. She is a gentle, outgoing and charming girl, who is beloved by everyone she meets, wherever she goes. She has even recently befriended former First Lady Laura Bush with her engaging tail wagging, bright eyes and facility to lick everyone she meets.
She goes crazy to chase water from the garden hose, and will happily spend hours running after a tennis ball, so long as someone is williing to keep throwing it. Her favorite pastime is barking at squirrels in the trees, and she has a tendency to sleep in anybody's lap and she is known to hog the bed pillows at night.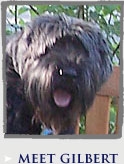 When just a little puppy, her breeder warned that Scotties should not go in the water as they "can not swim". Lillie, however, missed that message, and she was taught to swim by her big brother Gilbert Schnauzer at a very early age, and she now loves to cruise like an otter around in the water at Red Bud Island Dog Park. She can usually be found every afternoon snoozing in one of the chairs in the Pallasart offices.