Mr. Gilbert A. Schnauzer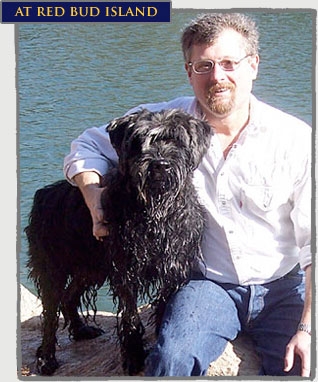 Gilbert A. Schnauzer is a Standard Schnauzer, born in West Los Angeles on March 14, 2003. His mother was all black, and his father "Giyn" was salt and pepper. Both parents were AKC registered Standard Schnauzers. He was hand carried on American Airlines from Los Angeles to Austin when he was just eight weeks old. He melted the hears of the entire flight crew with his big brown eyes.
Gilbert loves to swim, espcially at Red Bud Island leash free dog park, on Lake Austin, now called "Lady Bird Lake". His best friend there is Lakota, a half wolf half Malamute mix and they both love to play chase and hide and seek with each other. Gilbert is also fond of chasing frisbees and tennis balls.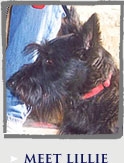 His nickname is Gil-bear, he thinks sticks and wood in general is an essential food group and he just lives for his daily afternoon walks before supper.Gilbert loves his vet, Dr. Greg Biehle at Brykerwoods Vet Clinic, and is probably the only dog who actually enjoys going to the Vet! Gilbert is very easy going, but always defends is little sister Lillie if any dog gets too aggressive with her.
Gilbert and Lillie both love to play in the front yard, and to just "hang out" in the yard and watch the world go by. This is why 101 Laurel soon became known the neighborhood as the "house with the two black dogs.