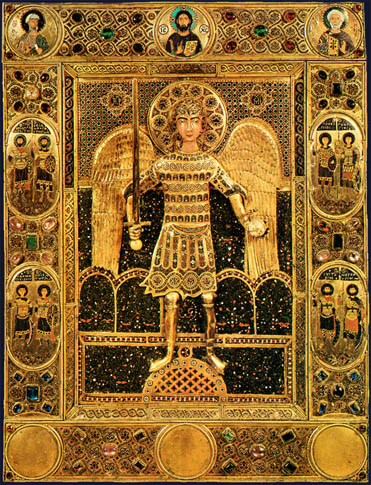 Icon of St. Michael the Archangel, looted from Constantinople during the Fourth Crusade and now in the Treasury of St. Mark's Cathedral in Venice. It is dated to the late 11th or early 12th centuries. It is 18 inches tall and 14 inches in width. made of gilt-silver and enamel, set with gemstones and glass. The gold cloisonne enamel work is amazing workmanship. It is impossible to know where this icon was kept in Constantinople, there are no records of its origin. Its size and opulence may mean it came from a private Imperial chapel.
Our Lady of the Pharos and St. Stephen's Chapel in the grounds of the Great Palace both had treasure houses of relics and precious works of art like this.
The icon of the Archangel is surrounded an entourage of military saints in enamel and points to his role as the the leader of the celestial army.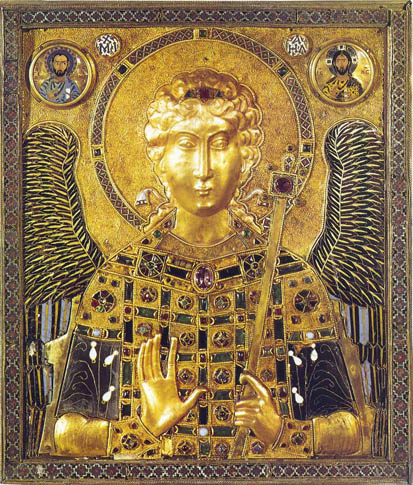 Icon Panel of the Archangel Michael, looted from Constantinople in 1204 and now in the Treasury of St. Mark's in Venice. It is 17 inches tall and 14 inches wide. It is made of silver-gilt, enamel, precious stones, pearls and glass and is dated to the late tenth or early eleventh centuries. The use of such images has been debated over the years, they could have been placed in a chapel iconostasis or carried in processions. Such and icon would be appropriate in a funeral chapel or a shrine to the Archangel himself.
The Emperor Issac II Angelos, one of the last Byzantine Emperors before the Fourth Crusade, poured enormous sums into a church he built for the Archangel near Constantinople, icons like this would have been part of its decoration.