It's Friday, June 22, 2018 in Austin, Texas
Wines.com Selects Austin Wine Guy
Rob Moshein now reviews wines for top site
Rob Moshein, The Austin Wine Guy, has been just been selected as an official reviewer and wine educator for wines.com - the number one wine site in the USA. The Austin Wine Guy website was designed and built by Pallasart in 2008 and it's now the top site for wine in the Central Texas. Rob is a member of the Austin Food Blogger Alliance and is one of the "Le Wine Buffs" - Brand Ambassadors for the Bordeaux Wine Council representing the wines of Bordeaux, France to the United States ( click here to see Rob and video of the June 22nd Bordeaux Tasting Panel in New York City ). Congratulations, Rob!
Click below to see one of Rob's recent reviews on wines.com.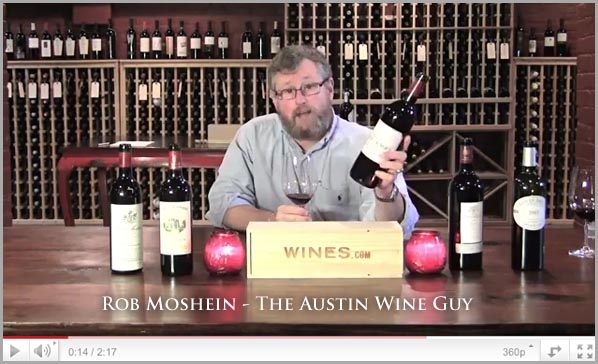 Wines.com, under parent company Pervino, was originally founded in 1994 by Dr. Jacklyn Wilferd. Dr. Wilferd's vision of educating and informing wine lovers worldwide helped to bring Wines.com into the forefront as the #1 wine portal on the internet. Alongside popular features like The Wine Board Forum, Wines.com has hosted such widely enjoyed online publications and wine columns as Jerry D. Mead's WineTrader, Mead On Wine syndicated weekly column, Vineyard & Winery Management Magazine, Millie Howie's Wine Words and Wine Tributaries. Their vision is to be the major provider of wine information and to maximize the efficiency of the wine retail market using our list of partners across the US. Their products reflect taste, elegance, and the art of wine.